Technical analysis of EUR/USD for May 06, 2022
Overview : Yesterday, the EUR/USD pair reached a new minimum at the price of 1.0471 (bottom), but it rebounded to close at 1.0571 (move up to 100 pips). The EUR/USD pair will continue to rise from the level of 1.0571 in the long term. It should be noted that the support is established at the level of 1.0471 which represents the last bearish wave on the hourly chart. The price is likely to form a double bottom in the same time frame. Accordingly, the EUR/USD pair is showing signs of strength following a breakout of the highest level of 1.0571. So, buy above the level of 1.0571 with the first target at 1.0614 in order to test the daily resistance 1 and further to 1.0658. Also, it should be noticed that the double top is set at 1.0845. Additionally, the RSI is still signaling that the trend is upward as it remains strong above the moving average (100). This suggests the pair will probably go up in coming hours. Accordingly, the market is likely to show signs of a bullish trend. Also, it might be noted that the level of 1.0845 is a good place to take profit because it will form a double top. On the other hand, in case a reversal takes place and the EUR/USD pair breaks through the support level of 1.0471, a further decline to 1.0426 can occur which would indicate a bearish market. The material has been provided by InstaForex Company - www.instaforex.com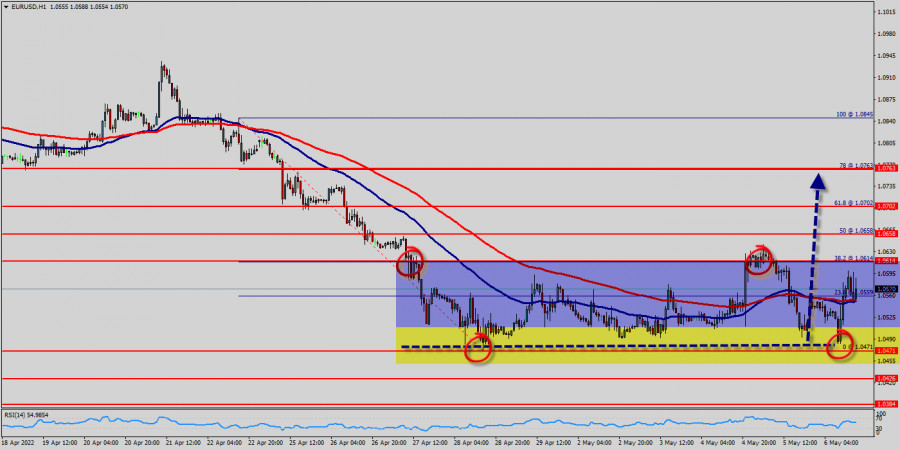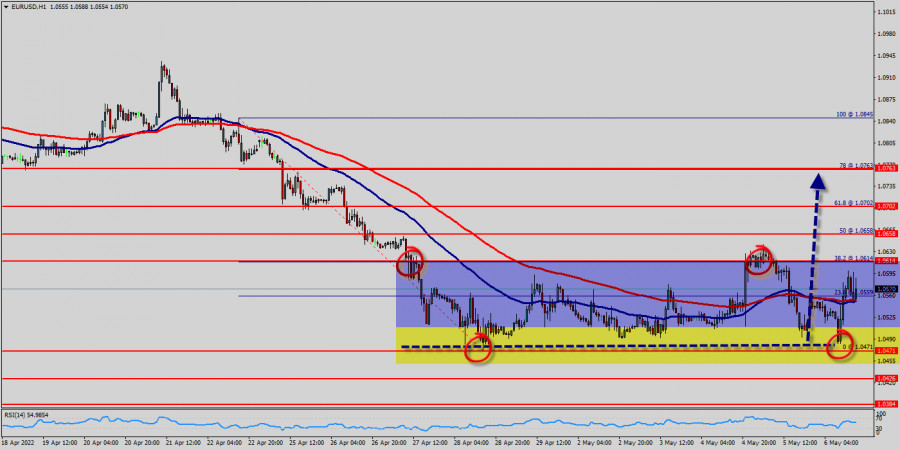 Overview :
Yesterday, the EUR/USD pair reached a new minimum at the price of 1.0471 (bottom), but it rebounded to close at 1.0571 (move up to 100 pips).
The EUR/USD pair will continue to rise from the level of 1.0571 in the long term. It should be noted that the support is established at the level of 1.0471 which represents the last bearish wave on the hourly chart.
The price is likely to form a double bottom in the same time frame. Accordingly, the EUR/USD pair is showing signs of strength following a breakout of the highest level of 1.0571.
So, buy above the level of 1.0571 with the first target at 1.0614 in order to test the daily resistance 1 and further to 1.0658.
Also, it should be noticed that the double top is set at 1.0845. Additionally, the RSI is still signaling that the trend is upward as it remains strong above the moving average (100).
This suggests the pair will probably go up in coming hours. Accordingly, the market is likely to show signs of a bullish trend.
Also, it might be noted that the level of 1.0845 is a good place to take profit because it will form a double top.
On the other hand, in case a reversal takes place and the EUR/USD pair breaks through the support level of 1.0471, a further decline to 1.0426 can occur which would indicate a bearish market.
The material has been provided by InstaForex Company -
www.instaforex.com