Technical Analysis of ETH/USD for January 27, 2022
Crypto Industry News:Turkey's president Erdogan has reportedly called on the ruling party to investigate the metaverse, cryptocurrencies, and how to trade with them.At a meeting on January 25, party leaders were instructed to explore an area that has significant prospects for the future. The economic aspects of metaverse, cryptocurrencies and social media are expected to be discussed in a forum to be organized by the ruling party.In Turkey, the metaverse is gaining in importance. According to some reports, thousands of virtual territories in Turkey, most of which are located in the historic former capital of Istanbul, have already been purchased on game-based metaverse platforms.While the Turkish government is open to blockchain technology, metaverse and state-issued digital currency, President Erdogan is known for his staunch opposition to cryptocurrencies. Last year he "declared war" on cryptocurrencies, suggesting that the country was not interested in adopting them.Technical Market OutlookThe ETH/USD bulls failed to bounce higher than $2,728 and the Bearish Engulfing candlestick pattern was made around this level. The next target for bears is seen at the level of $2,190, $2,000, $1,941 and $1,731 - this is the line in sand before a collapse under the $1,000 level. On the other hand, the nearest technical resistance are $2,728, $2,930 and $3,000. The market conditions are extremely oversold on Daily time frame, so this might help the demand side to bounce higher.Weekly Pivot Points:WR3 - $3,996WR2 - $3,638WR1 - $2,926Weekly Pivot - $2,584WS1 - $1,819WS2 - $1,512WS3 - $812Trading Outlook:The market is controlled by bears that pushed the price way below the level of $3k, so a breakout above this level is a must for bulls for a trend reversal. The market retrace more than 50% since the ATH at the level of $4,868 and the next long-term technical support is located at $1,721 (61% Fibonacci retracement of the last big impulsive wave up) is still the key long-term retracement level for bulls.The material has been provided by InstaForex Company - www.instaforex.com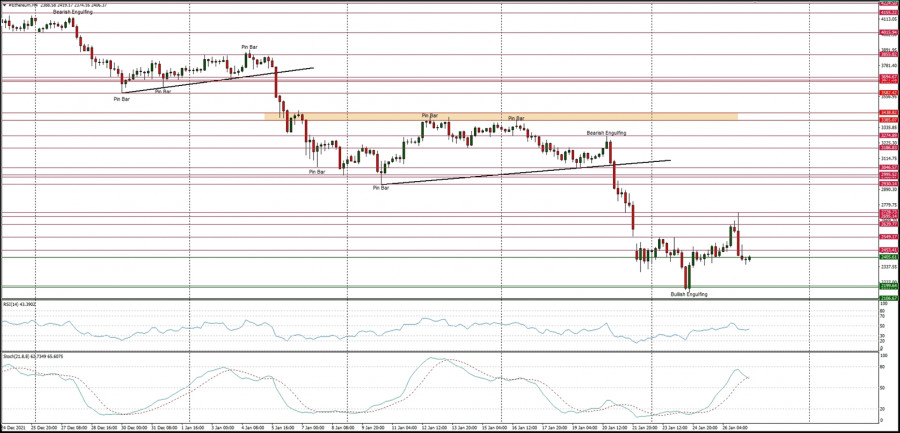 Crypto Industry News:
Turkey's president Erdogan has reportedly called on the ruling party to investigate the metaverse, cryptocurrencies, and how to trade with them.
At a meeting on January 25, party leaders were instructed to explore an area that has significant prospects for the future. The economic aspects of metaverse, cryptocurrencies and social media are expected to be discussed in a forum to be organized by the ruling party.
In Turkey, the metaverse is gaining in importance. According to some reports, thousands of virtual territories in Turkey, most of which are located in the historic former capital of Istanbul, have already been purchased on game-based metaverse platforms.
While the Turkish government is open to blockchain technology, metaverse and state-issued digital currency, President Erdogan is known for his staunch opposition to cryptocurrencies. Last year he "declared war" on cryptocurrencies, suggesting that the country was not interested in adopting them.
Technical Market Outlook
The ETH/USD bulls failed to bounce higher than $2,728 and the Bearish Engulfing candlestick pattern was made around this level. The next target for bears is seen at the level of $2,190, $2,000, $1,941 and $1,731 - this is the line in sand before a collapse under the $1,000 level. On the other hand, the nearest technical resistance are $2,728, $2,930 and $3,000. The market conditions are extremely oversold on Daily time frame, so this might help the demand side to bounce higher.
Weekly Pivot Points:
WR3 - $3,996
WR2 - $3,638
WR1 - $2,926
Weekly Pivot - $2,584
WS1 - $1,819
WS2 - $1,512
WS3 - $812
Trading Outlook:
The market is controlled by bears that pushed the price way below the level of $3k, so a breakout above this level is a must for bulls for a trend reversal. The market retrace more than 50% since the ATH at the level of $4,868 and the next long-term technical support is located at $1,721 (61% Fibonacci retracement of the last big impulsive wave up) is still the key long-term retracement level for bulls.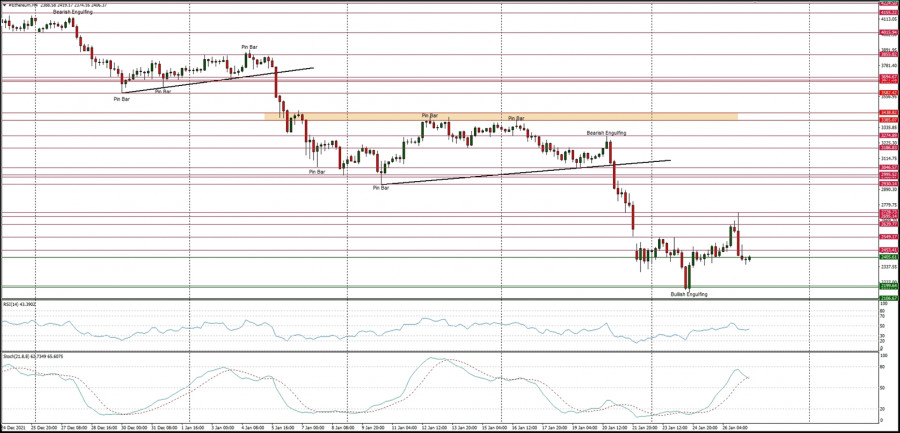 The material has been provided by InstaForex Company -
www.instaforex.com