Technical Analysis of BTC/USD for July 15, 2022
Bitcoin is back inside the ascending channelCrypto Industry News:The European Central Bank expects the completion of the digital Euro project in autumn 2023 and assumes that if the digital Euro project is to be fully successful, it must be universally accepted by all users in Europe.Yesterday, the European Central Bank (ECB) released a list of key targets in connection with the introduction of the digital Euro. The authors of the document presented are Christine Lagarde (bank president) and member of the management board, Fabio Panetta. The document attached to the list describes some fundamental issues concerning the design of the digital version of the single currency of the European Union."The digital Euro can only be successful if it becomes part of the daily lives of Europeans. It must add value compared to existing solutions," reads the published post.Both authors said it was too early to agree on the details of the project, however the ECB anticipates the end of the project's investigation phase in autumn 2023. The ECB initiated the digital Euro project in June 2021. In October, the launch of the two-year research phase of the central bank's digital currency (CBDC) study was announced.Until now, sporadic hints have been made about the introduction of the digital Euro over the next four years and how the ECB is likely to limit the amount in circulation to 1.5 trillion euros ($ 1.5 trillion). All of this is to control any negative impact this may have on financial stability. Lagarde and Panetta also announced that the digital Euro is to be a means of payment, not a form of investment.Technical Market Outlook: The BTC/USD pair has bounced back up inside the ascending channel and retrace 50% of the last wave down already. In a case of further bounce extension, the next target is 61% Fibonacci retracement level located at $21,134. The level of $21,867 will now act as a technical resistance for bulls. The larger time frame outlook for Bitcoin remains bearish, however, we have unconfirmed Bullish Engulfing pattern on the Daily time frame chart, so please stay focused and keep an eye on the key technical levels. Weekly Pivot Points: WR3 - $27,913 WR2 - $24,489WR1 - $23,135Weekly Pivot - $21,065WS1 - $19,711WS2 - $17,641WS3 - $14,217 Trading Outlook: The down trend on the H4, Daily and Weekly time frames continues. So far every bounce and attempt to rally is being used to sell Bitcoin for a better price by the market participants, so the bearish pressure is still high. The key long term technical support at the psychological level of $20,000 had been violated, the new swing low was made at $17,600 and if this level is violated, then the next long-term target for bulls is seen at $13,712.The material has been provided by InstaForex Company - www.instaforex.com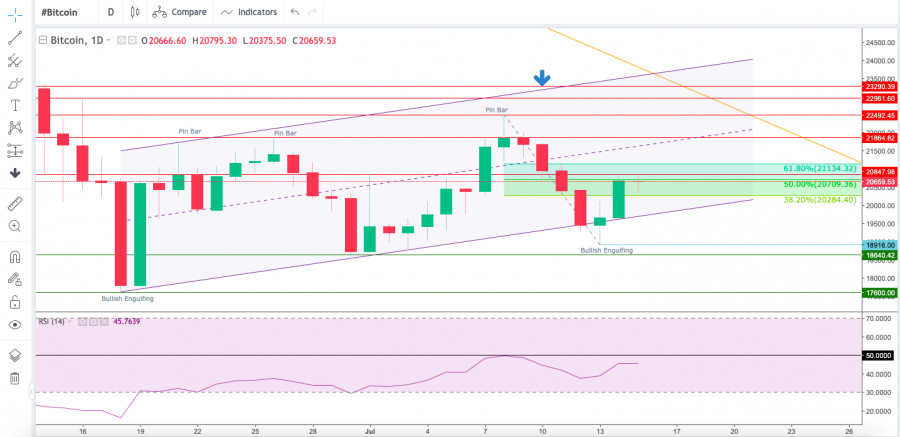 Bitcoin is back inside the ascending channelCrypto Industry News:
The European Central Bank expects the completion of the digital Euro project in autumn 2023 and assumes that if the digital Euro project is to be fully successful, it must be universally accepted by all users in Europe.
Yesterday, the European Central Bank (ECB) released a list of key targets in connection with the introduction of the digital Euro. The authors of the document presented are Christine Lagarde (bank president) and member of the management board, Fabio Panetta. The document attached to the list describes some fundamental issues concerning the design of the digital version of the single currency of the European Union.
"The digital Euro can only be successful if it becomes part of the daily lives of Europeans. It must add value compared to existing solutions," reads the published post.
Both authors said it was too early to agree on the details of the project, however the ECB anticipates the end of the project's investigation phase in autumn 2023. The ECB initiated the digital Euro project in June 2021. In October, the launch of the two-year research phase of the central bank's digital currency (CBDC) study was announced.
Until now, sporadic hints have been made about the introduction of the digital Euro over the next four years and how the ECB is likely to limit the amount in circulation to 1.5 trillion euros ($ 1.5 trillion). All of this is to control any negative impact this may have on financial stability. Lagarde and Panetta also announced that the digital Euro is to be a means of payment, not a form of investment.
Technical Market Outlook:
The BTC/USD pair has bounced back up inside the ascending channel and retrace 50% of the last wave down already. In a case of further bounce extension, the next target is 61% Fibonacci retracement level located at $21,134. The level of $21,867 will now act as a technical resistance for bulls. The larger time frame outlook for Bitcoin remains bearish, however, we have unconfirmed Bullish Engulfing pattern on the Daily time frame chart, so please stay focused and keep an eye on the key technical levels.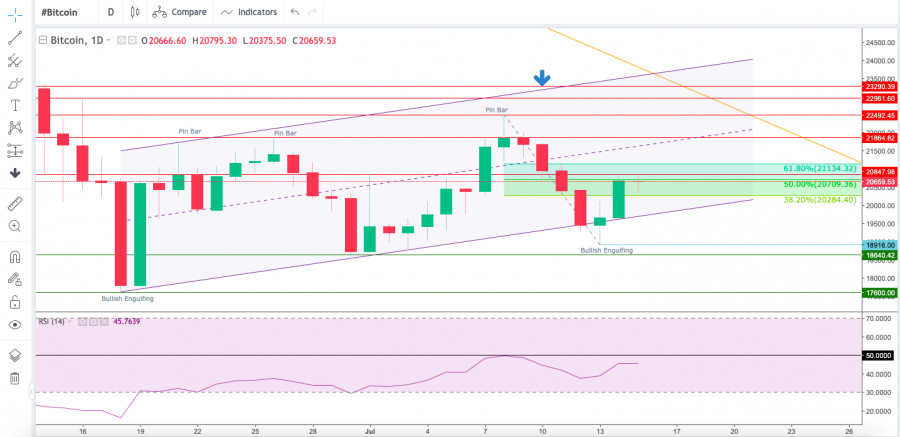 Weekly Pivot Points:
WR3 - $27,913
WR2 - $24,489
WR1 - $23,135
Weekly Pivot - $21,065
WS1 - $19,711
WS2 - $17,641
WS3 - $14,217
Trading Outlook:
The down trend on the H4, Daily and Weekly time frames continues. So far every bounce and attempt to rally is being used to sell Bitcoin for a better price by the market participants, so the bearish pressure is still high. The key long term technical support at the psychological level of $20,000 had been violated, the new swing low was made at $17,600 and if this level is violated, then the next long-term target for bulls is seen at $13,712.
The material has been provided by InstaForex Company -
www.instaforex.com