Wave analysis for EUR/USD on October 8, 2021
EUR/USD, H4 timeframe:Let's continue to analyze the situation of the EUR/USD pair through Elliott's theory. The final part of the large horizontal correction 4 is being formed for the EUR/USD pair based on Elliot's theory. This correction takes the form of a wave plane [A]-[B]-[C], where the first two zigzag waves [A]-[B] are already done, while the one in a downward wave [C] is still under development.It is worth noting that wave [C] consists of sub-waves (1)-(2)-(3)-(4)-(5). The first four parts are already complete, and the downward sub-wave (5) is in the process of formation. It is assumed that the price will continue to decline in sub-wave (5), that is, to the level of 1.1520 shortly.Once this level is reached, the price will reverse and start building a bullish trend.A lot of news is observed today. Lagarde will deliver a speech at 12:10 Universal Time, followed by an article about the figures of people employed in the US Nonfarm sector and a publication on the US unemployment rate.Currently, it is recommended to consider sales by setting the take profit at 1.1520, or wait for a bullish trend to gain profit on purchases. The material has been provided by InstaForex Company - www.instaforex.com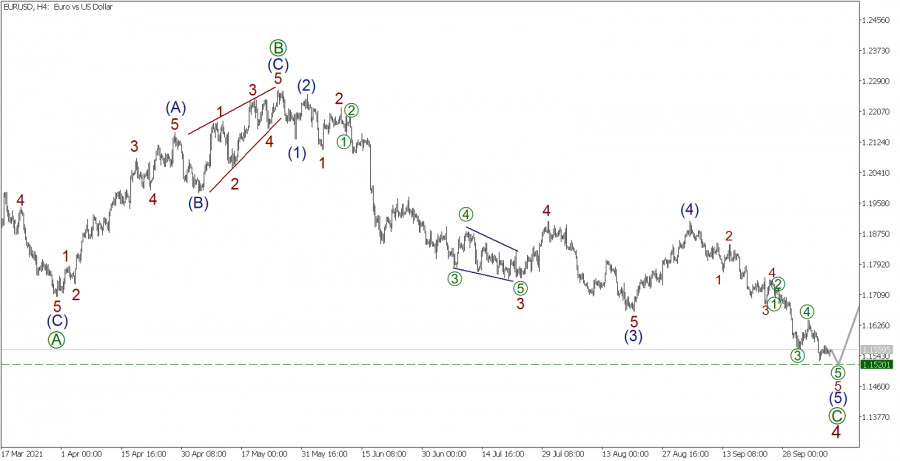 EUR/USD, H4 timeframe: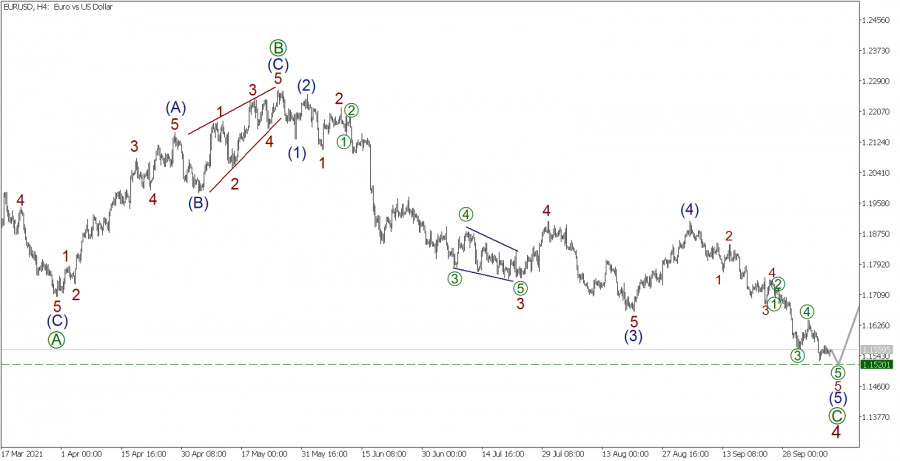 Let's continue to analyze the situation of the EUR/USD pair through Elliott's theory.
The final part of the large horizontal correction 4 is being formed for the EUR/USD pair based on Elliot's theory. This correction takes the form of a wave plane [A]-[B]-[C], where the first two zigzag waves [A]-[B] are already done, while the one in a downward wave [C] is still under development.
It is worth noting that wave [C] consists of sub-waves (1)-(2)-(3)-(4)-(5). The first four parts are already complete, and the downward sub-wave (5) is in the process of formation. It is assumed that the price will continue to decline in sub-wave (5), that is, to the level of 1.1520 shortly.
Once this level is reached, the price will reverse and start building a bullish trend.
A lot of news is observed today. Lagarde will deliver a speech at 12:10 Universal Time, followed by an article about the figures of people employed in the US Nonfarm sector and a publication on the US unemployment rate.
Currently, it is recommended to consider sales by setting the take profit at 1.1520, or wait for a bullish trend to gain profit on purchases.
The material has been provided by InstaForex Company -
www.instaforex.com