Wave analysis for EUR/USD on October 18, 2021
EUR/USD, H4 timeframe:Let's continue to analyze the situation of the EUR/USD pair through Elliott's theory. We continue to adhere to the previously selected scenario of the EUR/USD pair. It is assumed that this instrument will form a bullish impulse in the future, in which the long-term corrective wave 4 was recently completed. This wave is a horizontal wave plane [A]-[B]-[C].Now, the price has begun to build the initial part of a new bullish wave, or rather, the fifth sub-wave of the global impulse. It is worth noting that the fifth waves most often take the form of an impulse or a final diagonal.There is a high probability that the pair will rise to the level of 1.1910 in the near future. The correctional wave (4), marked in the blue was completed earlier at this level.In the current situation, one can consider opening buy deals in order to take profit at the specified level.The material has been provided by InstaForex Company - www.instaforex.com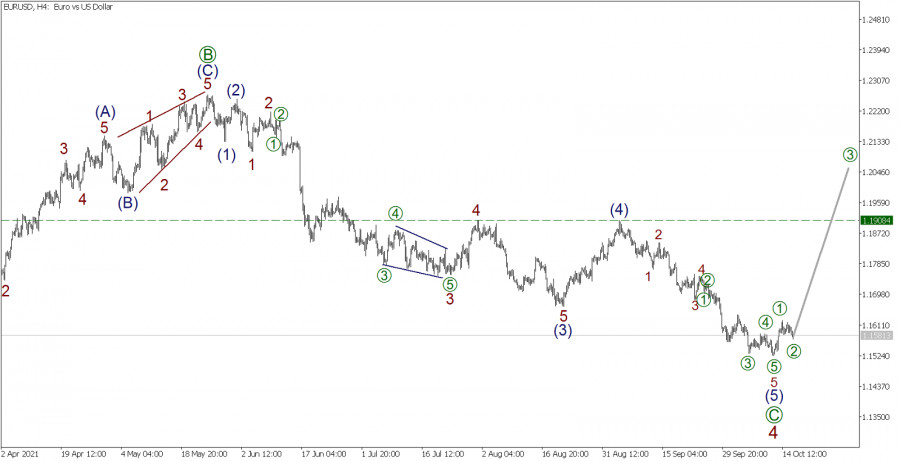 EUR/USD, H4 timeframe: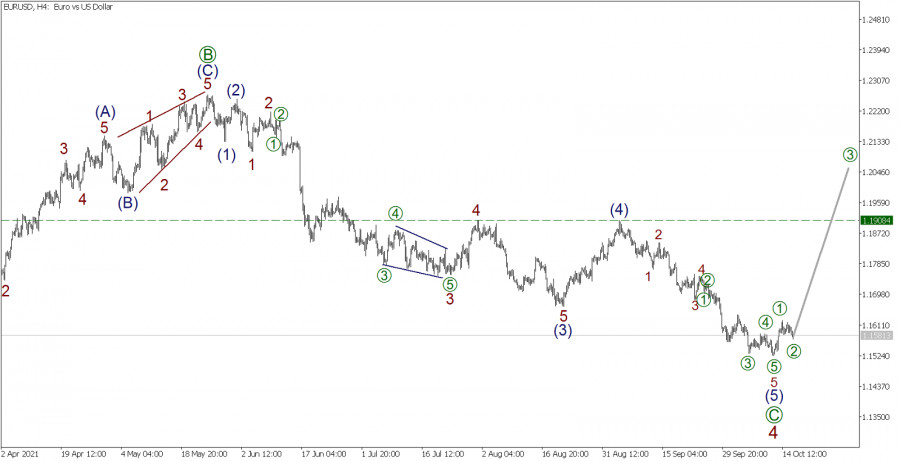 Let's continue to analyze the situation of the EUR/USD pair through Elliott's theory.
We continue to adhere to the previously selected scenario of the EUR/USD pair. It is assumed that this instrument will form a bullish impulse in the future, in which the long-term corrective wave 4 was recently completed. This wave is a horizontal wave plane [A]-[B]-[C].
Now, the price has begun to build the initial part of a new bullish wave, or rather, the fifth sub-wave of the global impulse. It is worth noting that the fifth waves most often take the form of an impulse or a final diagonal.
There is a high probability that the pair will rise to the level of 1.1910 in the near future. The correctional wave (4), marked in the blue was completed earlier at this level.
In the current situation, one can consider opening buy deals in order to take profit at the specified level.
The material has been provided by InstaForex Company -
www.instaforex.com