Wave analysis for EUR/USD on October 12, 2021
EUR/USD, H4 timeframe:Let's continue to analyze the situation of the EUR/USD pair through Elliott's theory. The final part of the global impulse can be observed on the four-hour timeframe of the EUR/USD pair. The second half of the correction wave 4 is presented, which has a horizontal structure and is a wave plane [A]-[B]-[C].It is assumed that the indicated correction has already completed its pattern. If our assumption is correct, then the price that is currently at a reversal may start a bullish movement in the near future. Perhaps, we will see an impulse growth to the level of 1.1908, which was marked by the correction (4).The number of open vacancies in the US labor market (JOLTS) will be released today at 14:00 Universal time. This may affect the acceleration of the EUR/USD growth.Currently, one can consider opening buy deals in order to take profit at the previous high. The material has been provided by InstaForex Company - www.instaforex.com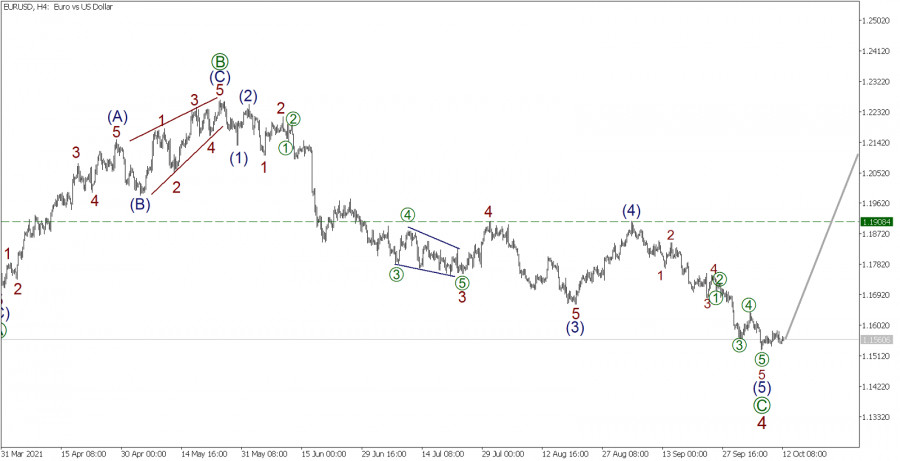 EUR/USD, H4 timeframe: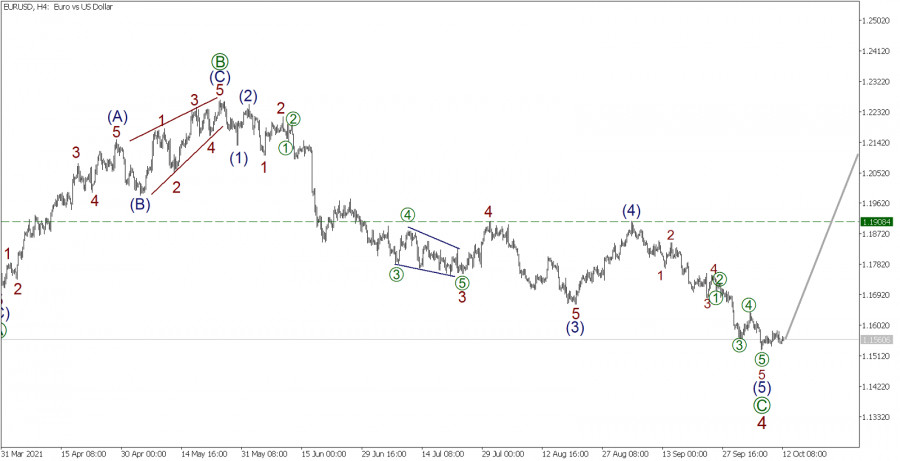 Let's continue to analyze the situation of the EUR/USD pair through Elliott's theory.
The final part of the global impulse can be observed on the four-hour timeframe of the EUR/USD pair. The second half of the correction wave 4 is presented, which has a horizontal structure and is a wave plane [A]-[B]-[C].
It is assumed that the indicated correction has already completed its pattern. If our assumption is correct, then the price that is currently at a reversal may start a bullish movement in the near future. Perhaps, we will see an impulse growth to the level of 1.1908, which was marked by the correction (4).
The number of open vacancies in the US labor market (JOLTS) will be released today at 14:00 Universal time. This may affect the acceleration of the EUR/USD growth.
Currently, one can consider opening buy deals in order to take profit at the previous high.
The material has been provided by InstaForex Company -
www.instaforex.com