USD/JPY continuation Pattern
USD/JPY decreased a little in the short term but the retreat seems to be over. Technically, the bias is still bullish, so the currency pair could resume its upside journey. The price action developed a continuation formation. Validating this pattern could also bring new long opportunities. USD/JPY is bullish right now as the DXY rebounded helping the greenback to appreciate, while the JP225 (Nikkei) continues to grow, weakening the yen.The US Building Permits and the Housing Starts have come in worse than expected. Tomorrow, the Japanese Trade Balance will be released and it is expected to drop further from -0.27T to -0.59T which could be bad for the JPY.USD/JPY flag formationUSD/JPY has found resistance at the ascending channel's upside line. Its false breakout signaled a temporary decline. It has failed to approach and reach 113.80 former high announcing strong buyers.Now it has jumped above the immediate downtrend line. Confirming its breakout could bring new long opportunities. Personally, I'll wait for the pair to test and retest the broken flag's resistance.USD/JPY outlookUSD/JPY could climb higher towards the up channel's resistance if it validates its breakout from the minor flag continuation pattern. The high of 114.46 stands as a static resistance. Making a valid breakout through this level could activate further growth towards the 115.00 psychological level.The material has been provided by InstaForex Company - www.instaforex.com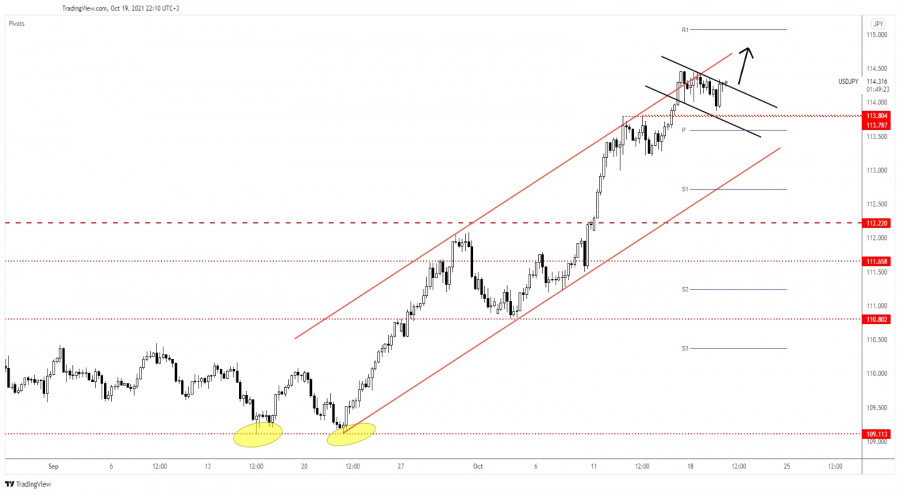 USD/JPY decreased a little in the short term but the retreat seems to be over. Technically, the bias is still bullish, so the currency pair could resume its upside journey. The price action developed a continuation formation.
Validating this pattern could also bring new long opportunities. USD/JPY is bullish right now as the DXY rebounded helping the greenback to appreciate, while the JP225 (Nikkei) continues to grow, weakening the yen.
The US Building Permits and the Housing Starts have come in worse than expected. Tomorrow, the Japanese Trade Balance will be released and it is expected to drop further from -0.27T to -0.59T which could be bad for the JPY.
USD/JPY flag formation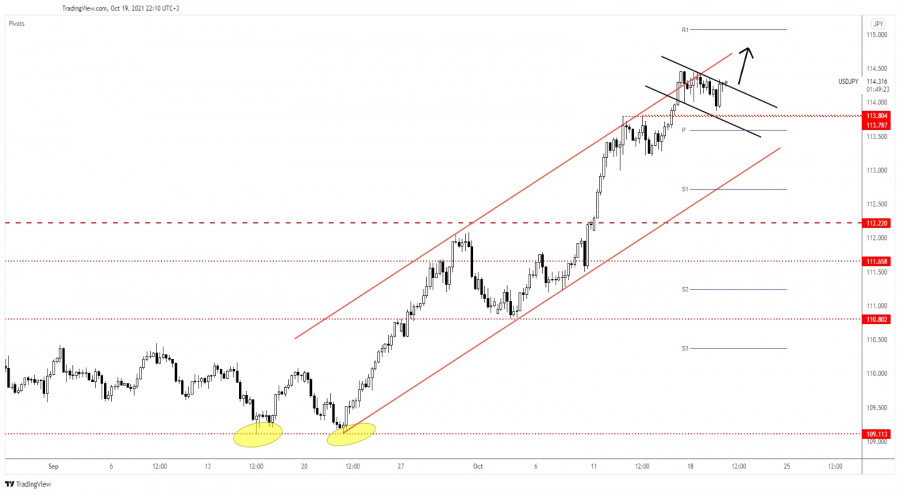 USD/JPY has found resistance at the ascending channel's upside line. Its false breakout signaled a temporary decline. It has failed to approach and reach 113.80 former high announcing strong buyers.
Now it has jumped above the immediate downtrend line. Confirming its breakout could bring new long opportunities. Personally, I'll wait for the pair to test and retest the broken flag's resistance.
USD/JPY outlook
USD/JPY could climb higher towards the up channel's resistance if it validates its breakout from the minor flag continuation pattern. The high of 114.46 stands as a static resistance. Making a valid breakout through this level could activate further growth towards the 115.00 psychological level.
The material has been provided by InstaForex Company -
www.instaforex.com