US is the new leader in Bitcoin mining
US is now the largest center for Bitcoin mining. It happened after China imposed a complete ban on crypto-related activities in the country.According to reports, US now accounts for around 35.4% of the world's hashrate - an indicator of the computing power used to mine digital currency. The figure is twice as high as in April.The University of Cambridge said the data came from mining pools BTC.com, Poolin, ViaBTC and Foundry.As noted above, the surge was driven by China's move away from the crypto industry. Earlier, it was the leading base of miners who received cheap electricity from coal and hydroelectric power plants.Now, China's efforts to contain the crypto market are paying off, and Cambridge researchers have found that its observed share of Bitcoin mining has almost reached zero. This is 75% lower than in September 2019, and is a noticeable decline from 46% in April this year.There is, however, a strong possibility that hidden mining is still taking place in China, but it is done through VPNs, which makes it seem like computers are working in another country. Cambridge said the recent increase in hash rates in Ireland and Germany is likely a result of the use of VPN miners or proxies.Miners are now looking for cheaper electricity and governments that support digital currencies, so over the past year, Bitcoin was able to increase by over 370%. Currently, it is trading around $ 57,300 and has a market cap of above $ 1 trillion.The material has been provided by InstaForex Company - www.instaforex.com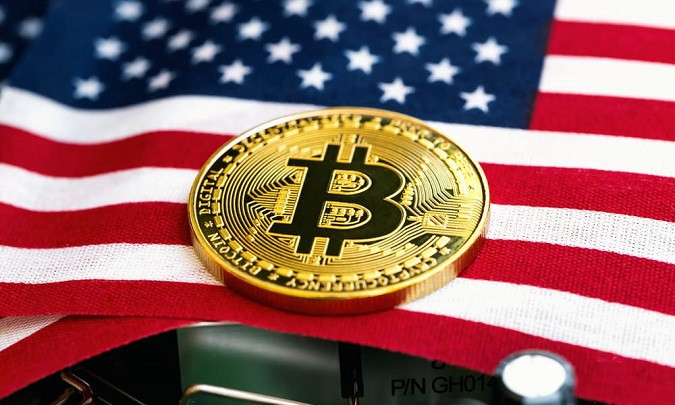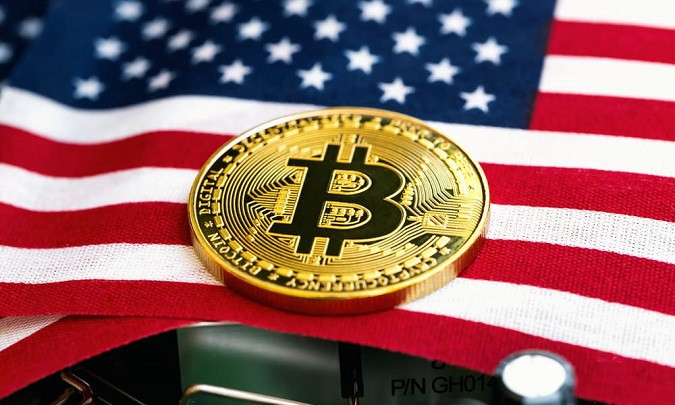 US is now the largest center for Bitcoin mining. It happened after China imposed a complete ban on crypto-related activities in the country.
According to reports, US now accounts for around 35.4% of the world's hashrate - an indicator of the computing power used to mine digital currency. The figure is twice as high as in April.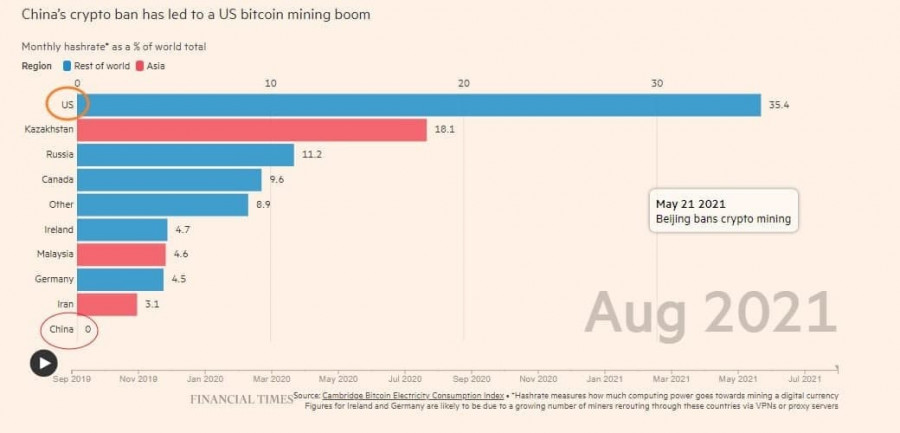 The University of Cambridge said the data came from mining pools BTC.com, Poolin, ViaBTC and Foundry.
As noted above, the surge was driven by China's move away from the crypto industry. Earlier, it was the leading base of miners who received cheap electricity from coal and hydroelectric power plants.
Now, China's efforts to contain the crypto market are paying off, and Cambridge researchers have found that its observed share of Bitcoin mining has almost reached zero. This is 75% lower than in September 2019, and is a noticeable decline from 46% in April this year.
There is, however, a strong possibility that hidden mining is still taking place in China, but it is done through VPNs, which makes it seem like computers are working in another country. Cambridge said the recent increase in hash rates in Ireland and Germany is likely a result of the use of VPN miners or proxies.
Miners are now looking for cheaper electricity and governments that support digital currencies, so over the past year, Bitcoin was able to increase by over 370%. Currently, it is trading around $ 57,300 and has a market cap of above $ 1 trillion.
The material has been provided by InstaForex Company -
www.instaforex.com