Trading signal for ether for October 11 - 12, 2021: buy if it rebounds at $3,281 (EMA 200)
On Sunday, the ETH price fell to the low of 3,362. Could this be a sign of a correction for a new bullish move? We should expect a breakout and consolidation above the 21 SMA located at 3,568. Above this level, the ETH could reach the strong resistance of 8/8 Murray located at 3750 and up to the psychological level of 4,000.The 200 EMA on the 4H charts is located at 3,300. Yesterday, the ETH approached this level. It is rebounding again. It means that the bullish force continues to prevail. It is also located below the SMA of 21 which limits that force and then makes a retracement.Ether is likely to trade in the range between 7/8 of Murray (3,600) and 5/8 of Murray (3,300). A sharp break above or below could define the next movement of ETH and this could reach up to the level of 4,000 or it could drop to the level of 2,968.The eagle indicator on October 7 gave an overbought signal. So far, it has moved away more than 50% from this level, which means that there could be a new bullish wave in the coming days. Ether continues trading above 3,300. A break above 3,593 will be the confirmation for the next bullish move.The short-term outlook is still bullish, so the key is to wait for any retracement to continue buying only if ETH is above the 200 EMA. The situation may change dramatically after it drops below this level. Ether could fall to the psychological level of 3,000. If the downward pressure increases it could reach the key support of 2/8 of Murray at 2,812.Support and Resistance Levels for October 11 - 12, 2021Resistance (3) 3,693Resistance (2) 3,636Resistance (1) 3,571----------------------------Support (1) 3,403Support (2) 3,367Support (3) 3,281***********************************************************Trading tip for Ethereum for October 11 - 12, 2021Sell if pullback 3,531 with take profit at 3,281 (EMA 200), stop loss above 3,620.Buy if rebound 3,281 (EMA 200) with take profit at 3,435 (6/8) and 3750 (8/8), stop loss below 3,200.The material has been provided by InstaForex Company - www.instaforex.com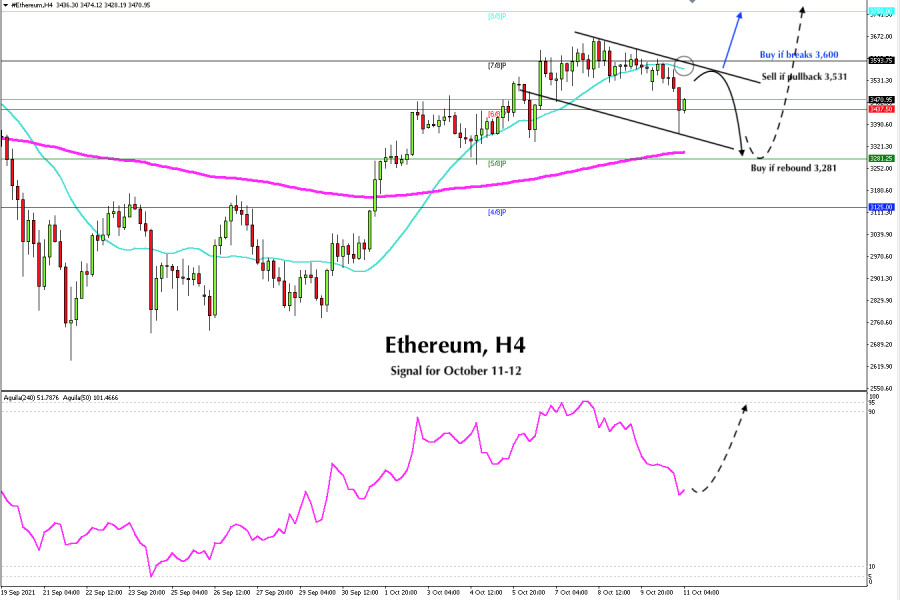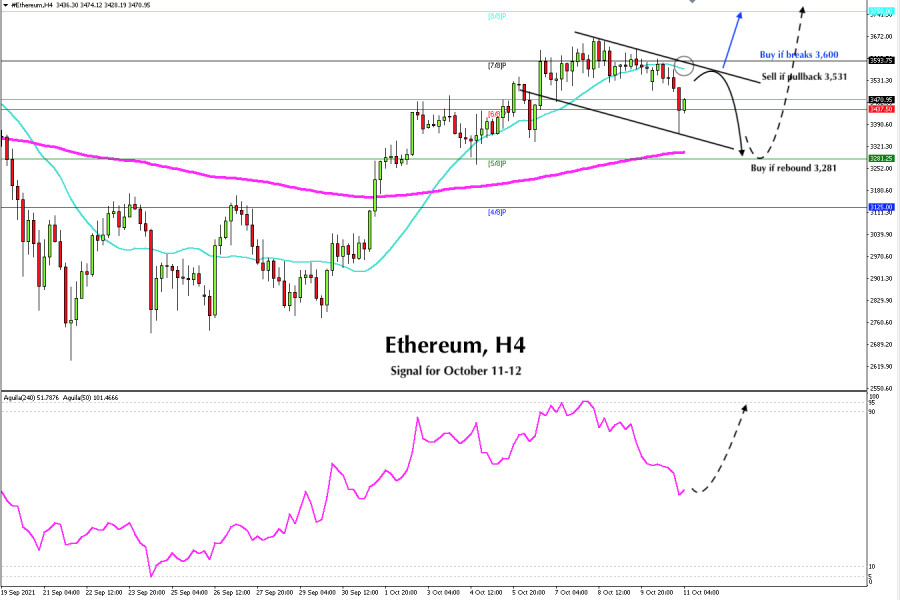 On Sunday, the ETH price fell to the low of 3,362. Could this be a sign of a correction for a new bullish move? We should expect a breakout and consolidation above the 21 SMA located at 3,568. Above this level, the ETH could reach the strong resistance of 8/8 Murray located at 3750 and up to the psychological level of 4,000.
The 200 EMA on the 4H charts is located at 3,300. Yesterday, the ETH approached this level. It is rebounding again. It means that the bullish force continues to prevail. It is also located below the SMA of 21 which limits that force and then makes a retracement.
Ether is likely to trade in the range between 7/8 of Murray (3,600) and 5/8 of Murray (3,300). A sharp break above or below could define the next movement of ETH and this could reach up to the level of 4,000 or it could drop to the level of 2,968.
The eagle indicator on October 7 gave an overbought signal. So far, it has moved away more than 50% from this level, which means that there could be a new bullish wave in the coming days. Ether continues trading above 3,300. A break above 3,593 will be the confirmation for the next bullish move.
The short-term outlook is still bullish, so the key is to wait for any retracement to continue buying only if ETH is above the 200 EMA. The situation may change dramatically after it drops below this level. Ether could fall to the psychological level of 3,000. If the downward pressure increases it could reach the key support of 2/8 of Murray at 2,812.
Support and Resistance Levels for October 11 - 12, 2021
Resistance (3) 3,693
Resistance (2) 3,636
Resistance (1) 3,571
----------------------------
Support (1) 3,403
Support (2) 3,367
Support (3) 3,281
***********************************************************
Trading tip for Ethereum for October 11 - 12, 2021
Sell if pullback 3,531 with take profit at 3,281 (EMA 200), stop loss above 3,620.
Buy if rebound 3,281 (EMA 200) with take profit at 3,435 (6/8) and 3750 (8/8), stop loss below 3,200.
The material has been provided by InstaForex Company -
www.instaforex.com