Trading plan for Gold for October 12, 2021
Technical outlook:Gold outlook remains bullish against the $1,721 mark as bulls are still inclined to break above the $1,786 resistance level over the next few trading sessions. The yellow metal has carved a bullish boundary AB between $1,721 and $1,781. Gold rallied through the $1,781 high on Friday before finding resistance and pulling back.The retracement found interim support around the $1,750 mark, which is fibonacci 0.618 retracement . Further, probability remains for yet another drop toward $1,745 , the Fibonacci 0.618 retracement, before bulls could be back in control. Either way, gold may remain bullish with a potential target toward $1,834 at least.Gold is seen to be trading around $1,759-60 and is expected to drop through $1,745 to complete the Gartley. Ideally prices should remain above the $1,721 lows and turn higher from the $1,745 potential support. Trading plan:Potential rally towards $1,834, against $1,721.Good luck!The material has been provided by InstaForex Company - www.instaforex.com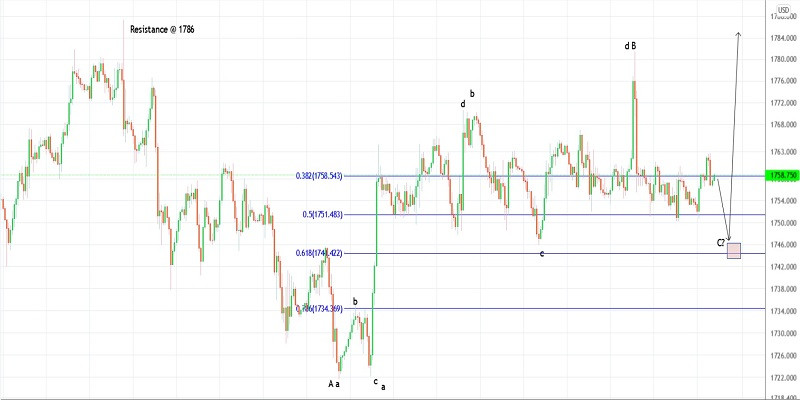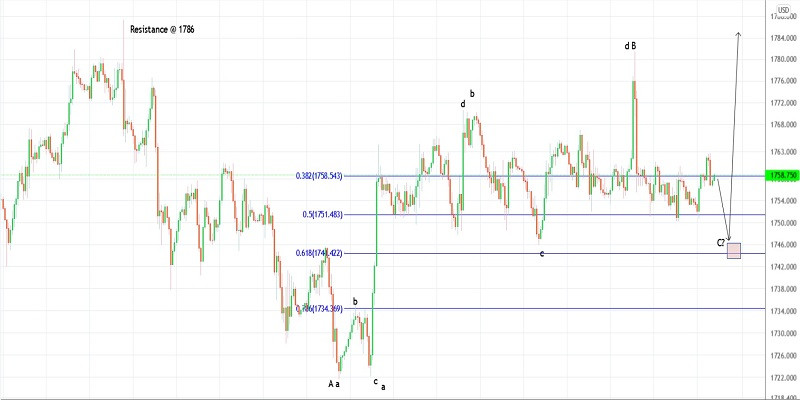 Technical outlook:
Gold outlook remains bullish against the $1,721 mark as bulls are still inclined to break above the $1,786 resistance level over the next few trading sessions. The yellow metal has carved a bullish boundary AB between $1,721 and $1,781. Gold rallied through the $1,781 high on Friday before finding resistance and pulling back.
The retracement found interim support around the $1,750 mark, which is fibonacci 0.618 retracement . Further, probability remains for yet another drop toward $1,745 , the Fibonacci 0.618 retracement, before bulls could be back in control. Either way, gold may remain bullish with a potential target toward $1,834 at least.
Gold is seen to be trading around $1,759-60 and is expected to drop through $1,745 to complete the Gartley. Ideally prices should remain above the $1,721 lows and turn higher from the $1,745 potential support.
Trading plan:
Potential rally towards $1,834, against $1,721.
Good luck!
The material has been provided by InstaForex Company -
www.instaforex.com