Trading plan for EURUSD for October 08, 2021
Technical outlook:EURUSD might have carved a meaningful bottom around 1.1530 or could print one more low around 1.1500 levels before finding support. The downside risk is less as bulls prepare for a pullback towards 1.1900-1.2000 zone in the next few weeks. A break above 1.1640 will confirm a bottom is in place and that bulls are back in control.EURUSD is also heading to produce a Morning Star candlestick pattern on the daily chart and a confirmation would be encouraging. The currency pair is seen to be trading close to 1.1568-70, the day's high, at this point in writing and is expected to continue further. Immediate price support is around 1.1500-30 while resistance is at 1.1640 levels respectively. EURUSD might have completed its corrective phase, which had begun since 1.2350. If the above unfolds accordingly, bulls might be inclined to push through fresh highs over the next few weeks. On the flip side, a counter trend rally towards 1.1900-50 can be least expected, if not any further.Trading plan:Ptential rally towards 1.1900-1.2000 zone against 1.1400 mark. Good luck!The material has been provided by InstaForex Company - www.instaforex.com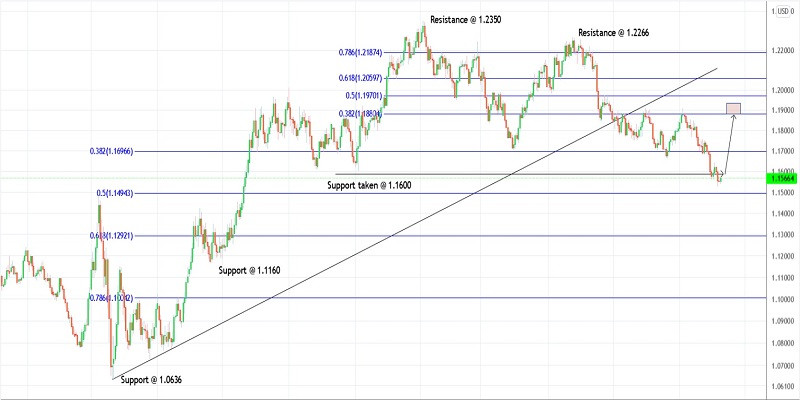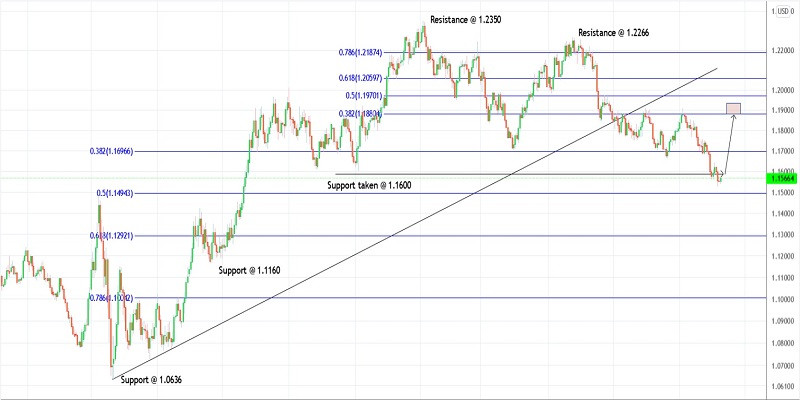 Technical outlook:
EURUSD might have carved a meaningful bottom around 1.1530 or could print one more low around 1.1500 levels before finding support. The downside risk is less as bulls prepare for a pullback towards 1.1900-1.2000 zone in the next few weeks. A break above 1.1640 will confirm a bottom is in place and that bulls are back in control.
EURUSD is also heading to produce a Morning Star candlestick pattern on the daily chart and a confirmation would be encouraging. The currency pair is seen to be trading close to 1.1568-70, the day's high, at this point in writing and is expected to continue further. Immediate price support is around 1.1500-30 while resistance is at 1.1640 levels respectively.
EURUSD might have completed its corrective phase, which had begun since 1.2350. If the above unfolds accordingly, bulls might be inclined to push through fresh highs over the next few weeks. On the flip side, a counter trend rally towards 1.1900-50 can be least expected, if not any further.
Trading plan:
Ptential rally towards 1.1900-1.2000 zone against 1.1400 mark.
Good luck!
The material has been provided by InstaForex Company -
www.instaforex.com