Trading plan for Bitcoin On October 13, 2021
Technical outlook:Bitcoin is pulling back after being just shy of the resistance at $58,500-59,000. The pullback could last for a few trading sessions and drag the price towards the $46,000-47,000 zone before bulls are back in control. The crypto is progressing higher within a trading channel and remains well supported around the $43,000 mark, going forward.Bitcoin is seen to be trading around $54,500-700 at this point in writing and is expected to continue lower from here. Immediate price resistance is seen at $58,500-59,000, while support comes in around $46,000. A drop to $46,000 will offer yet another opportunity to initiate fresh long positions targeting above $65,000.Bitcoin overall trend continues to remain bullish until prices stay above the $40,000 mark. Traders might be inclined to buy more around the $45,000-46,000 zone with a potential risk below $40,000, going forward.Trading plan:Potential rally towards $65,000 against $40,000.Good luck!The material has been provided by InstaForex Company - www.instaforex.com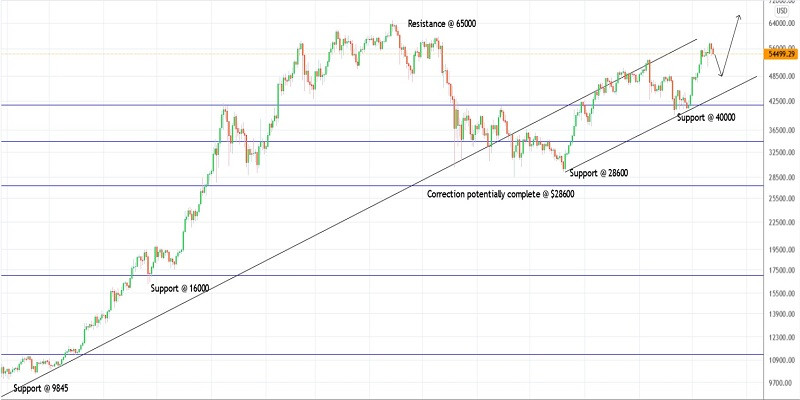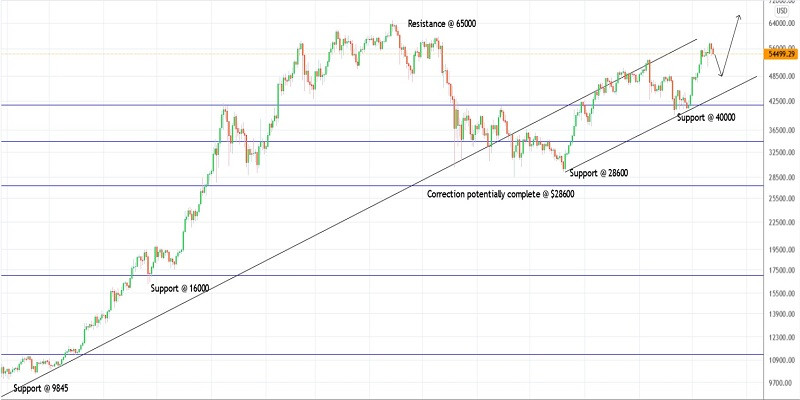 Technical outlook:
Bitcoin is pulling back after being just shy of the resistance at $58,500-59,000. The pullback could last for a few trading sessions and drag the price towards the $46,000-47,000 zone before bulls are back in control. The crypto is progressing higher within a trading channel and remains well supported around the $43,000 mark, going forward.
Bitcoin is seen to be trading around $54,500-700 at this point in writing and is expected to continue lower from here. Immediate price resistance is seen at $58,500-59,000, while support comes in around $46,000. A drop to $46,000 will offer yet another opportunity to initiate fresh long positions targeting above $65,000.
Bitcoin overall trend continues to remain bullish until prices stay above the $40,000 mark. Traders might be inclined to buy more around the $45,000-46,000 zone with a potential risk below $40,000, going forward.
Trading plan:
Potential rally towards $65,000 against $40,000.
Good luck!
The material has been provided by InstaForex Company -
www.instaforex.com