Trading plan for Bitcoin for October 08, 2021
Technical outlook:Bitcoin has rallied close to $56000 mark in this week and could further push through $58500-59000 resistance in the near term. It would be safe to consider booking some profits on long positions taken earlier or traders might wait for a pullback towards $46000 mark to initiate fresh long positions. The crypto is producing bearish divergence (not shown here) on the RSI and hence potential pullback remains possible.Bitcoin is seen to be trading around $55200 levels at this point in writing and might prepare to retrace soon. Immedoate price resistance is seen at $58500, while support comes around $46000-47000 zone, followed by $40000 levels respectively. A break above $58500 mark would confirm further upside but after a meaningful pullback is complete.Bitcoin has been in an uptrend since March 2020 lows around $4000 mark. The crypto has print $65000 life-time high and is ready to push higher before producing a meaningful retracement. The recent rally from $28500 mark seems to be in its final leg and could be targeting above $65000 mark in the near term.Trading plan:Potential rally above $65000 mark, against $40000Good luck!The material has been provided by InstaForex Company - www.instaforex.com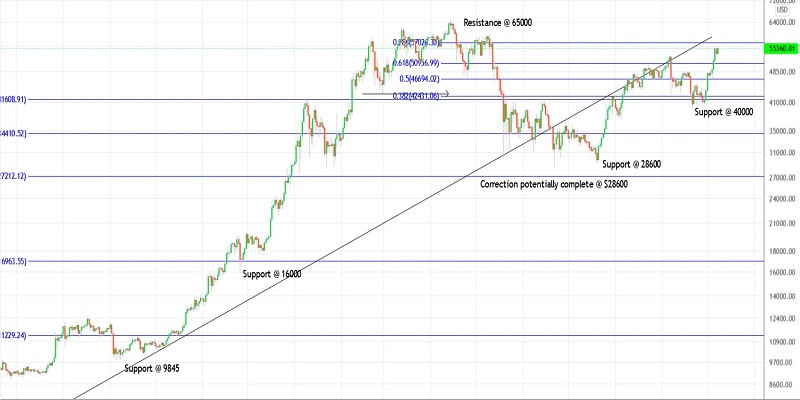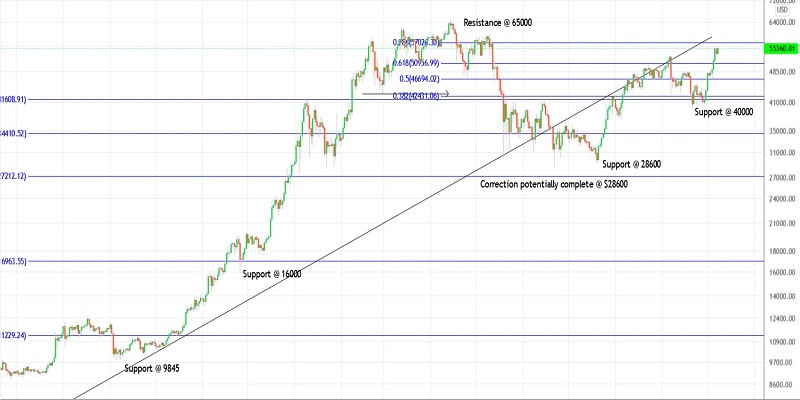 Technical outlook:
Bitcoin has rallied close to $56000 mark in this week and could further push through $58500-59000 resistance in the near term. It would be safe to consider booking some profits on long positions taken earlier or traders might wait for a pullback towards $46000 mark to initiate fresh long positions. The crypto is producing bearish divergence (not shown here) on the RSI and hence potential pullback remains possible.
Bitcoin is seen to be trading around $55200 levels at this point in writing and might prepare to retrace soon. Immedoate price resistance is seen at $58500, while support comes around $46000-47000 zone, followed by $40000 levels respectively. A break above $58500 mark would confirm further upside but after a meaningful pullback is complete.
Bitcoin has been in an uptrend since March 2020 lows around $4000 mark. The crypto has print $65000 life-time high and is ready to push higher before producing a meaningful retracement. The recent rally from $28500 mark seems to be in its final leg and could be targeting above $65000 mark in the near term.
Trading plan:
Potential rally above $65000 mark, against $40000
Good luck!
The material has been provided by InstaForex Company -
www.instaforex.com