Technical Analysis of ETH/USD for October 7, 2021
Crypto Industry News:MetaMask has announced an extension of the offer for institutional investors using a special version of the popular cryptocurrency wallet. It is about MetaMask Institutional's partnership with other companies, which will allow investors to take advantage of the possibility of decentralized finance (DeFi).MetaMask Institutional was launched in May this year, but is only available to a small number of investors for the time being. The questionnaire that must be completed in order to enter the waiting list confirms that this is a solution for institutional clients. Access to MetaMask Institutional will be available to, among others, cryptocurrency and hedge funds and banks.According to a representative of the MetaMask Institutional company, it is to offer the same functionality as a regular MetaMask wallet:"MetaMask Institutional provides the same functionality and features as MetaMask - i.e. Connectivity to the Decentralized Finance (DeFi) ecosystem spanning 10s of thousands of venues for trading, staking, lending, and borrowing across all EVM-compatible (Ethereum Virtual Machine) chains ".In August this year, the number of active users of the MetaMask wallet exceeded 10 million. The introduction and popularization of a dedicated solution for institutional clients will certainly attract many new users.Technical Market Outlook:The ETH/USD pair has made a new local high at the level of $3,631 and the market is consolidating the recent gains. The bulls are not that keen to continue the rally straight away, so the short-term pull-back might occur soon. The key short-term technical support is located at the level of $3,489 and the next target for bulls is seen at the level of $3,677. Please notice the bearish divergence between the price and the momentum oscillator supports the short-term bearish view and even a deeper corrective cycle towards the level of $3,252. Weekly Pivot Points:WR3 - $4,444WR2 - $3,970WR1 - $3,761Weekly Pivot - $3,277WS1 - $3,057WS2 - $2,590WS3 - $2,360Trading Outlook:Ethereum have started the next wave up and violated the long-term target at the level of $3,550. The next long-term target for ETH is seen at the level of $4,394. Nevertheless, in order to continue the long-term up trend, the price can not close below the technical support at the level of $2,906. The level of $1,728 (61% Fibonacci retracement of the last big impulsive wave up) is still the key long-term technical support for bulls.The material has been provided by InstaForex Company - www.instaforex.com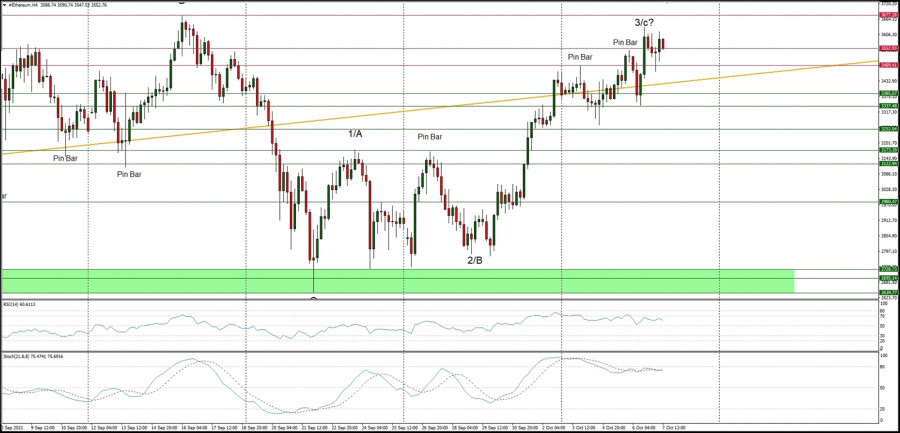 Crypto Industry News:
MetaMask has announced an extension of the offer for institutional investors using a special version of the popular cryptocurrency wallet. It is about MetaMask Institutional's partnership with other companies, which will allow investors to take advantage of the possibility of decentralized finance (DeFi).
MetaMask Institutional was launched in May this year, but is only available to a small number of investors for the time being. The questionnaire that must be completed in order to enter the waiting list confirms that this is a solution for institutional clients. Access to MetaMask Institutional will be available to, among others, cryptocurrency and hedge funds and banks.
According to a representative of the MetaMask Institutional company, it is to offer the same functionality as a regular MetaMask wallet:
"MetaMask Institutional provides the same functionality and features as MetaMask - i.e. Connectivity to the Decentralized Finance (DeFi) ecosystem spanning 10s of thousands of venues for trading, staking, lending, and borrowing across all EVM-compatible (Ethereum Virtual Machine) chains ".
In August this year, the number of active users of the MetaMask wallet exceeded 10 million. The introduction and popularization of a dedicated solution for institutional clients will certainly attract many new users.
Technical Market Outlook:
The ETH/USD pair has made a new local high at the level of $3,631 and the market is consolidating the recent gains. The bulls are not that keen to continue the rally straight away, so the short-term pull-back might occur soon. The key short-term technical support is located at the level of $3,489 and the next target for bulls is seen at the level of $3,677. Please notice the bearish divergence between the price and the momentum oscillator supports the short-term bearish view and even a deeper corrective cycle towards the level of $3,252.
Weekly Pivot Points:
WR3 - $4,444
WR2 - $3,970
WR1 - $3,761
Weekly Pivot - $3,277
WS1 - $3,057
WS2 - $2,590
WS3 - $2,360
Trading Outlook:
Ethereum have started the next wave up and violated the long-term target at the level of $3,550. The next long-term target for ETH is seen at the level of $4,394. Nevertheless, in order to continue the long-term up trend, the price can not close below the technical support at the level of $2,906. The level of $1,728 (61% Fibonacci retracement of the last big impulsive wave up) is still the key long-term technical support for bulls.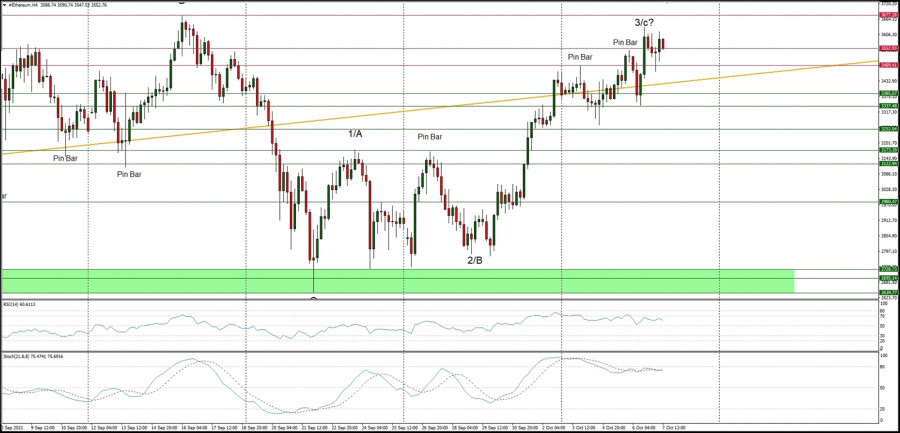 The material has been provided by InstaForex Company -
www.instaforex.com