Technical Analysis of ETH/USD for October 13, 2021
Crypto Industry News:Bitfury, a cryptocurrency mining hardware manufacturer in Europe, is reportedly planning to go public. The company, which specializes in the supply of Bitcoin mining hardware and related services, allegedly contacted Deloitte, one of the top four accounting firms, to assess its readiness to issue a stock market on a regulated market.The company wants to take advantage of the cryptocurrency boom to get better results in public markets. The last round of Bitfura funding was in 2018, when the company raised $ 80 million from investors such as Galaxy Digital's Mike Novogratz, earning a $ 1 billion valuation. Bitfury is reportedly considering Amsterdam or London as a possible market for its public offering.If Bitfury takes the leap into being a publicly traded company, it won't be the first in the cryptocurrency space. Earlier this year, Coinbase, one of America's leading cryptocurrency exchanges, went public, giving investors the opportunity to invest in the future of the cryptocurrency world without investing directly in cryptocurrencies. After going public, the company had a valuation of $ 50 billion. Other cryptocurrency mining companies are already trading in public markets as well.Canaan Mining, an Asian cryptocurrency mining hardware manufacturer, went public in the U.S. in November 2019, raising $ 90 million. Bitfury is also the parent company of Cipher Mining, which already trades on Nasdaq through a SPAC agreement with Good Works Acquisition Corp. Bitfury still owns a minority stake in the company.Technical Market Outlook:The ETH/USD had pulled-back towards the technical support located at the level of $3,385 and continues the corrective cycle. There is a clear Bullish Engulfing pattern at the end of the last pull-back, so the bulls are back in control of the market. The next target is located at $3,677 and then at $3,830. The momentum is back into the positive zone, but is not that strong yet, so a more complex and time-consuming correction in a potential wave 4 is still possible. Weekly Pivot Points:WR3 - $4,097WR2 - $3,885WR1 - $3,704Weekly Pivot - $3,473WS1 - $3,298WS2 - $3,083WS3 - $2,876Trading Outlook:Ethereum have started the next wave up and violated the long-term target at the level of $3,550. The next long-term target for ETH is seen at the level of $4,394. Nevertheless, in order to continue the long-term up trend, the price can not close below the technical support at the level of $2,906. The level of $1,728 (61% Fibonacci retracement of the last big impulsive wave up) is still the key long-term technical support for bulls.The material has been provided by InstaForex Company - www.instaforex.com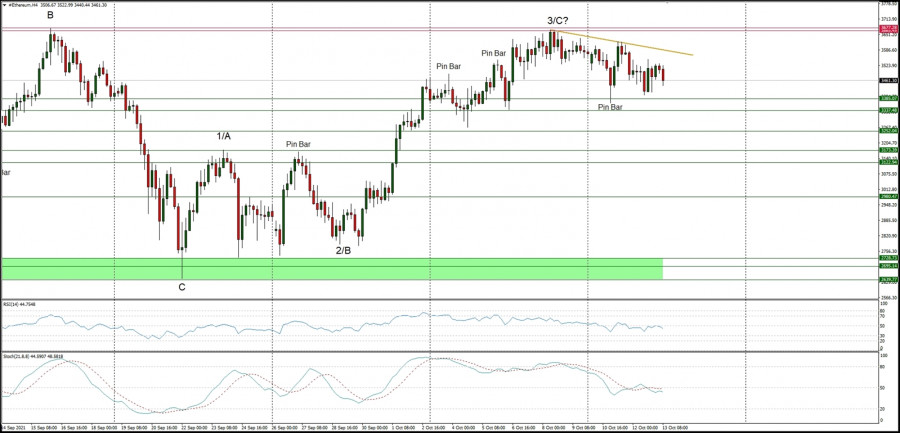 Crypto Industry News:
Bitfury, a cryptocurrency mining hardware manufacturer in Europe, is reportedly planning to go public. The company, which specializes in the supply of Bitcoin mining hardware and related services, allegedly contacted Deloitte, one of the top four accounting firms, to assess its readiness to issue a stock market on a regulated market.
The company wants to take advantage of the cryptocurrency boom to get better results in public markets. The last round of Bitfura funding was in 2018, when the company raised $ 80 million from investors such as Galaxy Digital's Mike Novogratz, earning a $ 1 billion valuation. Bitfury is reportedly considering Amsterdam or London as a possible market for its public offering.
If Bitfury takes the leap into being a publicly traded company, it won't be the first in the cryptocurrency space. Earlier this year, Coinbase, one of America's leading cryptocurrency exchanges, went public, giving investors the opportunity to invest in the future of the cryptocurrency world without investing directly in cryptocurrencies. After going public, the company had a valuation of $ 50 billion. Other cryptocurrency mining companies are already trading in public markets as well.
Canaan Mining, an Asian cryptocurrency mining hardware manufacturer, went public in the U.S. in November 2019, raising $ 90 million. Bitfury is also the parent company of Cipher Mining, which already trades on Nasdaq through a SPAC agreement with Good Works Acquisition Corp. Bitfury still owns a minority stake in the company.
Technical Market Outlook:
The ETH/USD had pulled-back towards the technical support located at the level of $3,385 and continues the corrective cycle. There is a clear Bullish Engulfing pattern at the end of the last pull-back, so the bulls are back in control of the market. The next target is located at $3,677 and then at $3,830. The momentum is back into the positive zone, but is not that strong yet, so a more complex and time-consuming correction in a potential wave 4 is still possible.
Weekly Pivot Points:
WR3 - $4,097
WR2 - $3,885
WR1 - $3,704
Weekly Pivot - $3,473
WS1 - $3,298
WS2 - $3,083
WS3 - $2,876
Trading Outlook:
Ethereum have started the next wave up and violated the long-term target at the level of $3,550. The next long-term target for ETH is seen at the level of $4,394. Nevertheless, in order to continue the long-term up trend, the price can not close below the technical support at the level of $2,906. The level of $1,728 (61% Fibonacci retracement of the last big impulsive wave up) is still the key long-term technical support for bulls.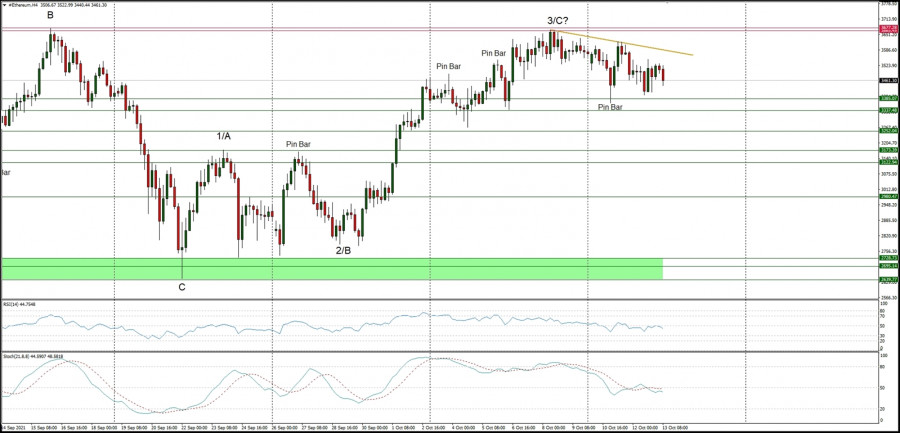 The material has been provided by InstaForex Company -
www.instaforex.com