Technical Analysis of BTC/USD for October 12, 2021
Crypto Industry News:SEC commissioner Hester Peirce spoke about the regulation of cryptocurrencies in an online interview. Peirce is also known in the crypto community as "crypto mom" due to her knowledge and support of the crypto space.She was asked if the SEC had any problems keeping up with changes in the crypto space and protocols that evolve and change very rapidly every day."Certainly the regulator is having a hard time keeping up with the development of DeFi and more generally cryptocurrencies," Peirce admitted."People should not assume that the SEC can only focus on one thing. The SEC has many resources and can do many things at once. So be aware of this and you need to consider whether the securities laws apply to what you do and consult lawyers when necessary, "she recommended.The Commissioner added that the decentralized world is very new to the regulator, as the SEC is used to dealing with the usually large, centralized brokers.SEC chairman Gary Gensler also said that many of the platforms claiming to be decentralized were in fact centralized. In September, he told Senator Elizabeth Warren that many platforms "are decentralized in name only." In addition, he said that many of the tokens listed on cryptocurrency exchanges are actually securities.Technical Market Outlook:The BTC/USD pair has been seen moving up towards the next target seen at the level of $59,661. The market conditions are still overbought, but the momentum remains strong and positive as the bulls are in control of the market. The immediate technical support is seen at the level of $55,748. The key short-term technical support is located at $52,209. Please notice the top of the wave 3/C might be completed at the level of $59,561 and then the market will start the corrective cycle in wave 4. Weekly Pivot Points:WR3 - $69,115WR2 - $62,582WR1 - $60,185Weekly Pivot - $53,520WS1 - $50,100WS2 - $43,237WS3 - $40,463Trading Outlook:According to the long-term charts the bulls are still in control of the Bitcoin market, so the up trend continues and the next long term target for Bitcoin is seen at the level of $70,000. The next mid-term target is seen at the level of $59,506. This scenario is valid as long as the level of $30,000 is clearly broken on the daily time frame chart (daily candle close below $30k).The material has been provided by InstaForex Company - www.instaforex.com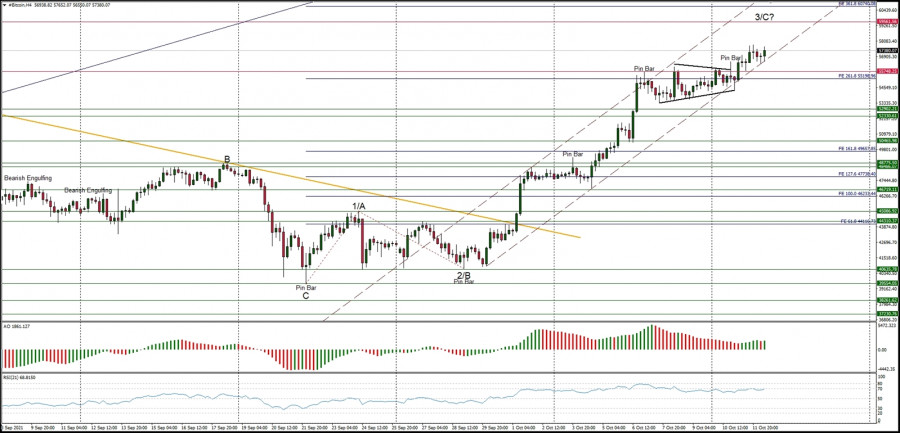 Crypto Industry News:
SEC commissioner Hester Peirce spoke about the regulation of cryptocurrencies in an online interview. Peirce is also known in the crypto community as "crypto mom" due to her knowledge and support of the crypto space.
She was asked if the SEC had any problems keeping up with changes in the crypto space and protocols that evolve and change very rapidly every day.
"Certainly the regulator is having a hard time keeping up with the development of DeFi and more generally cryptocurrencies," Peirce admitted.
"People should not assume that the SEC can only focus on one thing. The SEC has many resources and can do many things at once. So be aware of this and you need to consider whether the securities laws apply to what you do and consult lawyers when necessary, "she recommended.
The Commissioner added that the decentralized world is very new to the regulator, as the SEC is used to dealing with the usually large, centralized brokers.
SEC chairman Gary Gensler also said that many of the platforms claiming to be decentralized were in fact centralized. In September, he told Senator Elizabeth Warren that many platforms "are decentralized in name only." In addition, he said that many of the tokens listed on cryptocurrency exchanges are actually securities.
Technical Market Outlook:
The BTC/USD pair has been seen moving up towards the next target seen at the level of $59,661. The market conditions are still overbought, but the momentum remains strong and positive as the bulls are in control of the market. The immediate technical support is seen at the level of $55,748. The key short-term technical support is located at $52,209. Please notice the top of the wave 3/C might be completed at the level of $59,561 and then the market will start the corrective cycle in wave 4.
Weekly Pivot Points:
WR3 - $69,115
WR2 - $62,582
WR1 - $60,185
Weekly Pivot - $53,520
WS1 - $50,100
WS2 - $43,237
WS3 - $40,463
Trading Outlook:
According to the long-term charts the bulls are still in control of the Bitcoin market, so the up trend continues and the next long term target for Bitcoin is seen at the level of $70,000. The next mid-term target is seen at the level of $59,506. This scenario is valid as long as the level of $30,000 is clearly broken on the daily time frame chart (daily candle close below $30k).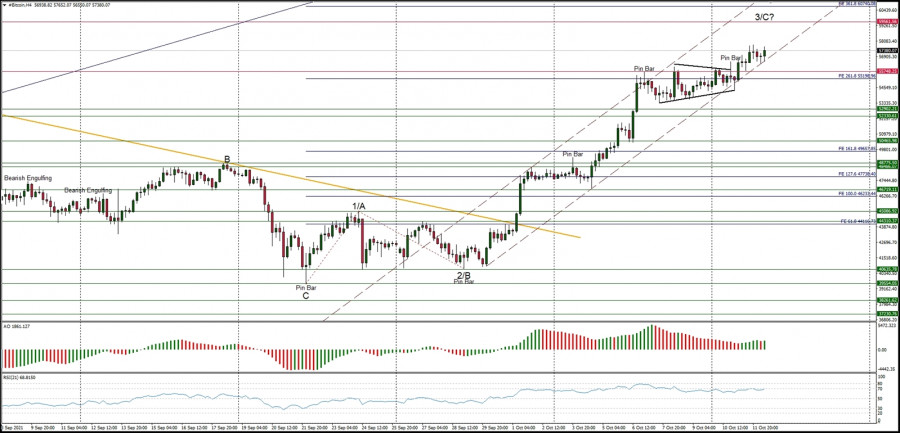 The material has been provided by InstaForex Company -
www.instaforex.com