Stocks traded volatilely ahead of US inflation data
Stocks traded volatilely on Tuesday as investors waited for the earnings season to begin, all while monitoring inflation and economic recovery. Many were worried that price pressures would erode corporate profits and growth just as politicians are preparing to drop stimulus. Earlier, Atlanta Fed President Raphael Bostic said inflation caused by supply chain disruptions and service resumptions is likely to continue and spread to more sectors of the economy. Fed Deputy Chairman Richard Clarida also mentioned that the conditions necessary for bond tapering are "almost met." The next key test of market confidence will be the start of the earnings season on Wednesday. The quarterly forecast, which has improved over the previous four reporting periods, is now worsening. Analysts predict earnings for S&P 500 companies to rise 28% to $ 49 per share, which is less than in the previous quarter - 94%. "Basically, the bar has been set lower for companies to exceed expectations. Disappointment may already be stemming from supply chain and inflation issues being discussed at length over the past few weeks. Ultimately, this reporting season will be the season for stock buyers, "said Ally Invest's chief investment strategist Lindsay Bell. Meanwhile, the International Monetary Fund warned that there may be a sudden and sharp drop in global share prices and home values as global central banks cut off the support they provided during the pandemic. This is because most portfolios are not adequately protected from inflation, said Karen Karniol-Tambour, Co-CIO of Bridgewater's Sustainable Investing. For this, one of the simplest things investors can do is to swap their nominal bonds for inflation-linked bonds. Other key events for this week are: - FOMC meeting and US CPI (Wednesday); - China PPI and CPI (Thursday); - US jobless claims and PPI (Thursday). The material has been provided by InstaForex Company - www.instaforex.com
Stocks traded volatilely on Tuesday as investors waited for the earnings season to begin, all while monitoring inflation and economic recovery. Many were worried that price pressures would erode corporate profits and growth just as politicians are preparing to drop stimulus. Earlier, Atlanta Fed President Raphael Bostic said inflation caused by supply chain disruptions and service resumptions is likely to continue and spread to more sectors of the economy. Fed Deputy Chairman Richard Clarida also mentioned that the conditions necessary for bond tapering are "almost met."
The next key test of market confidence will be the start of the earnings season on Wednesday. The quarterly forecast, which has improved over the previous four reporting periods, is now worsening. Analysts predict earnings for S&P 500 companies to rise 28% to $ 49 per share, which is less than in the previous quarter - 94%.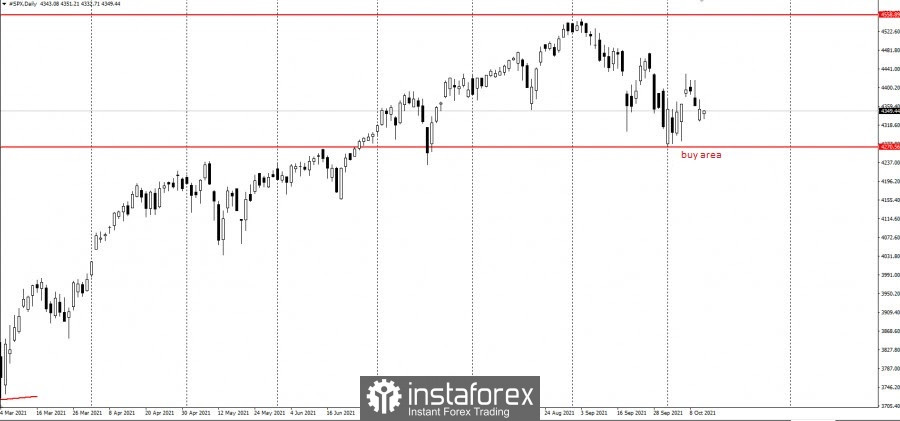 "Basically, the bar has been set lower for companies to exceed expectations. Disappointment may already be stemming from supply chain and inflation issues being discussed at length over the past few weeks. Ultimately, this reporting season will be the season for stock buyers, "said Ally Invest's chief investment strategist Lindsay Bell.
Meanwhile, the International Monetary Fund warned that there may be a sudden and sharp drop in global share prices and home values as global central banks cut off the support they provided during the pandemic. This is because most portfolios are not adequately protected from inflation, said Karen Karniol-Tambour, Co-CIO of Bridgewater's Sustainable Investing.
For this, one of the simplest things investors can do is to swap their nominal bonds for inflation-linked bonds.
Other key events for this week are:
- FOMC meeting and US CPI (Wednesday);
- China PPI and CPI (Thursday);
- US jobless claims and PPI (Thursday).
The material has been provided by InstaForex Company -
www.instaforex.com