Markets can only be shaken by significant changes in the value of US inflation
Today, the focus of the market's attention will be the publication of US inflation data, which will undoubtedly affect the situation on the world markets due to their extreme values.According to the forecast, US inflation should maintain a growth rate of 5.3% in annual terms. Everything should also remain unchanged in monthly terms – an increase of 0.3%. The annual value of core inflation is expected to remain at the level of 0.4%, but the monthly value will slightly change, rising by 0.2% in September from 0.1% in August.What will be the possible market reaction to this data?We believe that if the data show noticeable changes from the presented consensus forecast, this will either lead to a resumption of the decline in the stock market and an increase in the dollar exchange rate due to an earlier probability of interest rates starting to rise. This will happen if inflation rises. But if the figures turn out to be lower than the forecast, this may stimulate the growth of expectations for a more distant start of the increase in the cost of borrowing by the Fed.Investors have been recently carried away by the topic of changing the course of the Fed's monetary policy that they have stopped closely following the start of the publication of corporate reports, which, as expected, should be generally positive and in the future support demand for company shares.A similar picture is observed in the currency market, where commodity and commodity currencies have recently demonstrated noticeable movements. There is no doubt that they were supported by the rise in the value of commodity assets amid Europe's energy crisis before the cold winter. However, the euro just actually stood still. The extreme uncertainty of the prospects for monetary policies of the world's largest central bank – the ECB and others, whose actions are tied to the Fed's monetary policy decisions, leads to the fact that dollar pairs with European major currencies have actually frozen. It is possible that we will see some kind of reaction only if the US inflation data show extreme values – either positive or negative.Assessing today's promising movements, we believe that only strong changes in inflation values, both upward and downward, will be able to shake the market and lead to local changes in the dollar exchange rate, demand for company shares, and the dynamics of the price of gold and commodity assets.Forecast of the day:The USD/CAD pair is consolidating above the level of 1.2440. The negative news for the US dollar will lead to the resumption of growth in crude oil prices and to the pair's decline to the level of 1.2300.The material has been provided by InstaForex Company - www.instaforex.com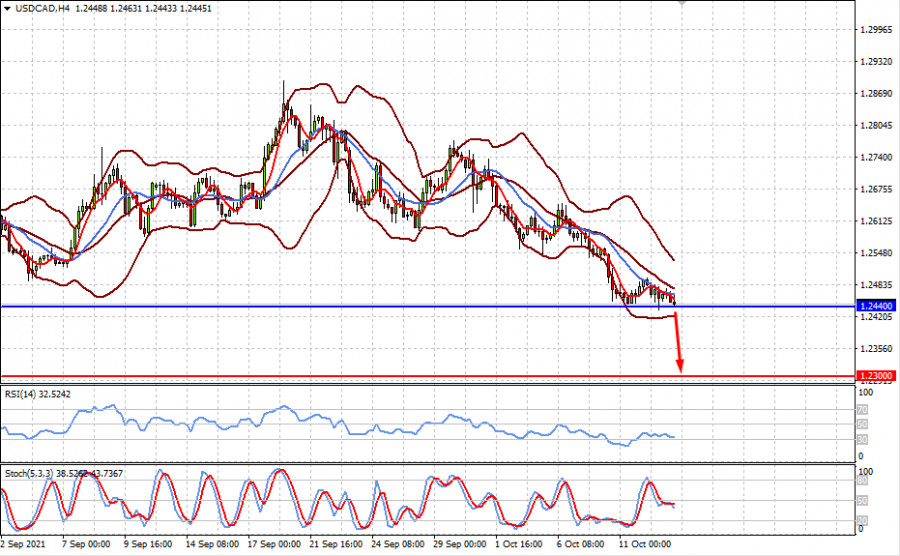 Today, the focus of the market's attention will be the publication of US inflation data, which will undoubtedly affect the situation on the world markets due to their extreme values.
According to the forecast, US inflation should maintain a growth rate of 5.3% in annual terms. Everything should also remain unchanged in monthly terms – an increase of 0.3%. The annual value of core inflation is expected to remain at the level of 0.4%, but the monthly value will slightly change, rising by 0.2% in September from 0.1% in August.
What will be the possible market reaction to this data?
We believe that if the data show noticeable changes from the presented consensus forecast, this will either lead to a resumption of the decline in the stock market and an increase in the dollar exchange rate due to an earlier probability of interest rates starting to rise. This will happen if inflation rises. But if the figures turn out to be lower than the forecast, this may stimulate the growth of expectations for a more distant start of the increase in the cost of borrowing by the Fed.
Investors have been recently carried away by the topic of changing the course of the Fed's monetary policy that they have stopped closely following the start of the publication of corporate reports, which, as expected, should be generally positive and in the future support demand for company shares.
A similar picture is observed in the currency market, where commodity and commodity currencies have recently demonstrated noticeable movements. There is no doubt that they were supported by the rise in the value of commodity assets amid Europe's energy crisis before the cold winter. However, the euro just actually stood still. The extreme uncertainty of the prospects for monetary policies of the world's largest central bank – the ECB and others, whose actions are tied to the Fed's monetary policy decisions, leads to the fact that dollar pairs with European major currencies have actually frozen. It is possible that we will see some kind of reaction only if the US inflation data show extreme values – either positive or negative.
Assessing today's promising movements, we believe that only strong changes in inflation values, both upward and downward, will be able to shake the market and lead to local changes in the dollar exchange rate, demand for company shares, and the dynamics of the price of gold and commodity assets.
Forecast of the day:
The USD/CAD pair is consolidating above the level of 1.2440. The negative news for the US dollar will lead to the resumption of growth in crude oil prices and to the pair's decline to the level of 1.2300.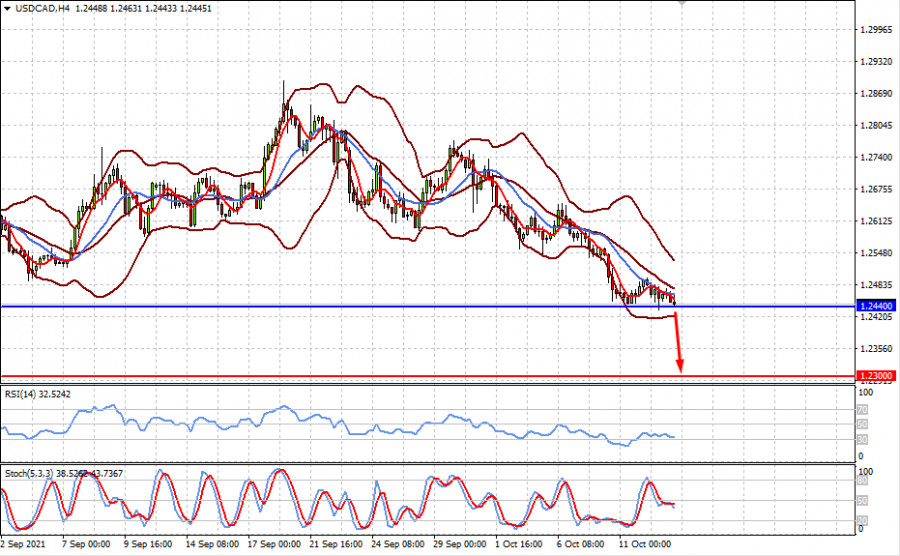 The material has been provided by InstaForex Company -
www.instaforex.com