Hot forecast for GBP/USD on 10/18/2021
The GBPUSD pair tried to overcome the resistance area of 1.3730/1.3750 last Friday. As a result, a local puncture was obtained, but bulls did not manage to roll over the previously set correctional move in the market.The RSI technical instrument in the four-hour period touches the overbought level of 70 for the second consecutive day, but eventually bounces off it. There is an assumption of the occurrence of a signal of a change of trading interests.From the point of view of the Fibonacci lines, the 1.3730/1.3750 resistance area coincides with the 38.2 level. This increases the pressure on long positions.Despite the corrective move, the downward cycle from the beginning of June remains on the market.Expectations and prospects.It can be assumed that the tactics of price rebound from the resistance area is still relevant in the market. In the long term, this may lead to the completion of the corrective course and, as a result, the resumption of the downward cycle.The strategy of working on pulling down the pound's rate has a stepwise form. The first signal will appear when the price is staying below 1.3700. This will bring the quote to the local low of October 15. After that, traders are waiting for the price to stay below 1.3650, which will open the way in the direction of 1.3610-1.3570.Comprehensive indicator analysis gives a sell signal based on a short-term period due to the price rebound from the resistance area. The indicators of technical instruments of the intraday period are focused on buying due to the current correction.The material has been provided by InstaForex Company - www.instaforex.com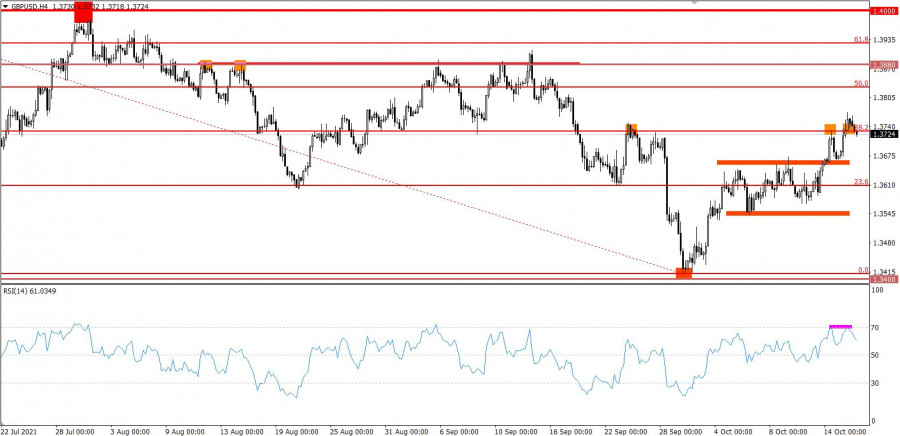 The GBPUSD pair tried to overcome the resistance area of 1.3730/1.3750 last Friday. As a result, a local puncture was obtained, but bulls did not manage to roll over the previously set correctional move in the market.
The RSI technical instrument in the four-hour period touches the overbought level of 70 for the second consecutive day, but eventually bounces off it. There is an assumption of the occurrence of a signal of a change of trading interests.
From the point of view of the Fibonacci lines, the 1.3730/1.3750 resistance area coincides with the 38.2 level. This increases the pressure on long positions.
Despite the corrective move, the downward cycle from the beginning of June remains on the market.
Expectations and prospects.
It can be assumed that the tactics of price rebound from the resistance area is still relevant in the market. In the long term, this may lead to the completion of the corrective course and, as a result, the resumption of the downward cycle.
The strategy of working on pulling down the pound's rate has a stepwise form. The first signal will appear when the price is staying below 1.3700. This will bring the quote to the local low of October 15. After that, traders are waiting for the price to stay below 1.3650, which will open the way in the direction of 1.3610-1.3570.
Comprehensive indicator analysis gives a sell signal based on a short-term period due to the price rebound from the resistance area. The indicators of technical instruments of the intraday period are focused on buying due to the current correction.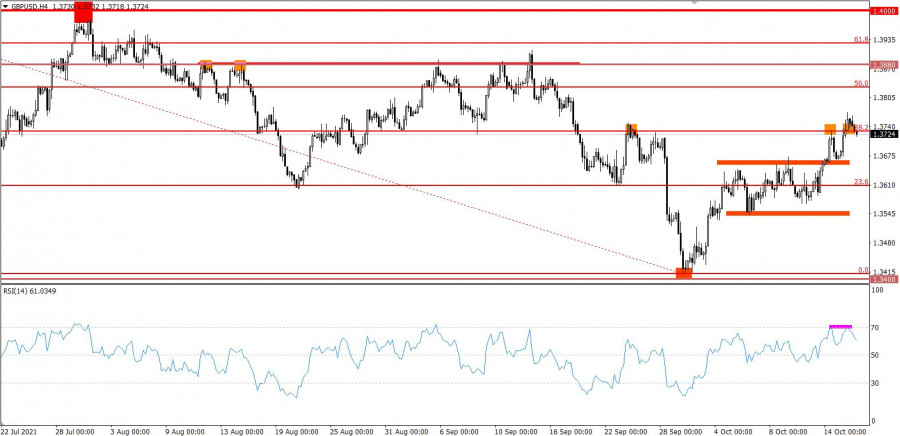 The material has been provided by InstaForex Company -
www.instaforex.com