GBP/USD upside seems limited, downside needs confirmation
The GBP/USD pair dropped in the short term as the USD was boosted by the DXY's rally. The price action signaled that the leg higher could be over. Still, a deeper drop needs confirmation as the pair moves sideways.The price could continue to move sideways ahead of the US inflation data publication. As you already know, the US is to release its CPI and Core CPI data tomorrow. Moreover, the FOMC Meeting Minutes is seen as a high-impact event. These releases will shake the markets and bring sharp movements in GBP/USD as well.The UK Unemployment Rate dropped from 4.6% to 4.5% as expected, the Claimant Count Change was reported at -51.1K versus -60.5K expected, the Average Earnings Index registered a 7.2% growth exceeding the 6.9% estimate, while the BRC Retail Sales Monitor dropped by 0.6% whereas experts expected 1.3% growth.GBP/USD bears in controlThe GBP/USD failed to approach and reach the Ascending Pitchfork's median line (ML) signaling exhausted buyers. It has registered a false breakout through 1.3647 static resistance and above the weekly R1 (1.3668). Now, it has slipped lower to retest the downside 50% Fibonacci line which stands as a dynamic support. It has failed to stay above 1.3600 weekly pivot point, but I believe that only a valid break below the 50% line could signal a deeper drop.GBP/USD forecastThe pair seems undecided in the short term. A new lower low, a bearish closure below 1.3568 may signal a deeper drop, while a new higher high, a bullish closure above 1.3637 could signal further growth towards the median line (ML). The material has been provided by InstaForex Company - www.instaforex.com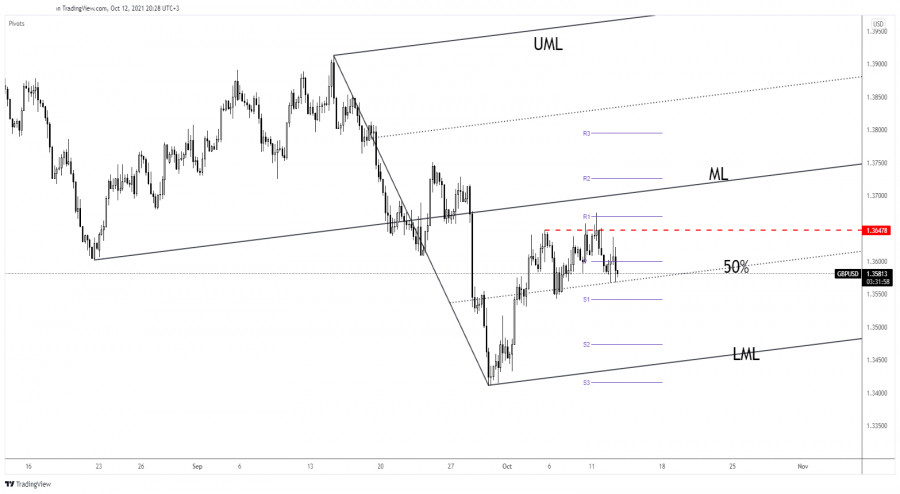 The GBP/USD pair dropped in the short term as the USD was boosted by the DXY's rally. The price action signaled that the leg higher could be over. Still, a deeper drop needs confirmation as the pair moves sideways.
The price could continue to move sideways ahead of the US inflation data publication. As you already know, the US is to release its CPI and Core CPI data tomorrow. Moreover, the FOMC Meeting Minutes is seen as a high-impact event. These releases will shake the markets and bring sharp movements in GBP/USD as well.
The UK Unemployment Rate dropped from 4.6% to 4.5% as expected, the Claimant Count Change was reported at -51.1K versus -60.5K expected, the Average Earnings Index registered a 7.2% growth exceeding the 6.9% estimate, while the BRC Retail Sales Monitor dropped by 0.6% whereas experts expected 1.3% growth.
GBP/USD bears in control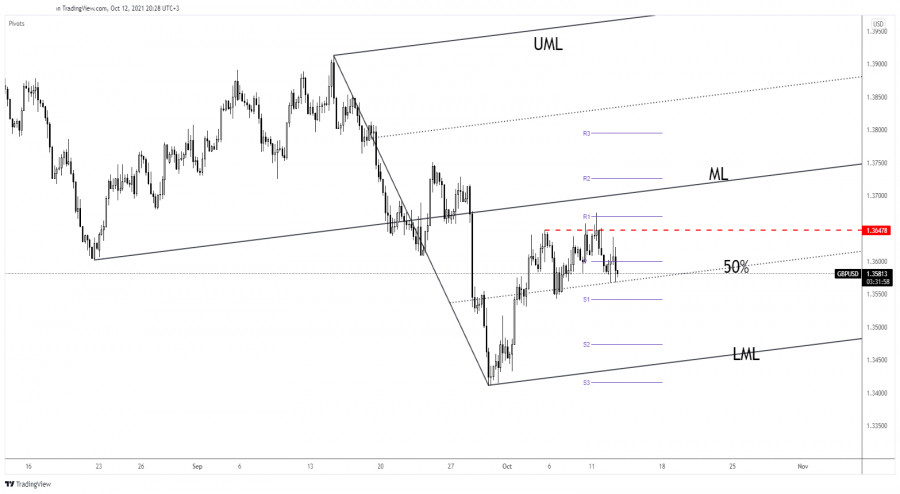 The GBP/USD failed to approach and reach the Ascending Pitchfork's median line (ML) signaling exhausted buyers. It has registered a false breakout through 1.3647 static resistance and above the weekly R1 (1.3668).
Now, it has slipped lower to retest the downside 50% Fibonacci line which stands as a dynamic support. It has failed to stay above 1.3600 weekly pivot point, but I believe that only a valid break below the 50% line could signal a deeper drop.
GBP/USD forecast
The pair seems undecided in the short term. A new lower low, a bearish closure below 1.3568 may signal a deeper drop, while a new higher high, a bullish closure above 1.3637 could signal further growth towards the median line (ML).
The material has been provided by InstaForex Company -
www.instaforex.com