Copper is a promising metal for investors
Copper has been one of the largest leaders in the commodity market since 2020. This red shiny industrial metal is not only an important part of the economic growth, but also necessary for the global transition to sustainable energy sources. The world's largest consumer, China, has prioritized reducing carbon emissions, aiming to reduce carbon intensity (emissions per unit of GDP) by more than 65% by 2030 compared to 2005 levels. By 2060, the country wants to completely neutralize them. In the United States, the Biden administration has set a goal to switch completely to electricity by 2035, thus to be 100% free of carbon pollution, and to neutralize it by 2050. According to the US climate plan, electric vehicles should account for at least half of new car sales in the country by 2030. Since a lot of copper is used in the production of electric vehicles, and it uses 4 times more copper than in conventional cars, the demand for copper is growing at a tremendous pace. Wind and solar photovoltaic systems have the highest copper content among all renewable energy technologies, which makes the metal even more important for achieving climate goals. According to CopperAlliance, wind turbines require 2.5 to 6.4 tons of copper per MW for the generators, cables, and transformers. Photovoltaic solar power systems use about 5.5 tons of copper per MW. A study by Fitch Solutions shows that by 2030, environmental demand from the energy and renewable energy sectors, as well as cars, will account for 7.9% of the total demand for copper. Fitch predicts that as a result of the broader energy transition, the share of copper in green energy in total demand will grow from about 5.6% this year to 15.7% in 2030. Moreover, the average annual demand on an annualized basis over the next 10 years will be 13.0%. According to Cochilco, the commission of the leading copper producer in Chile, the global demand for copper this year will reach 24 million tons, which is 2.4% more than in 2020, and 24.7 million tons in 2022, which is 3% more. At the same time, Ole Hansen from Saxo Bank believes that the lack of investment in new mines for this period of time and increased demand due to the desire to electrify the transport sector in the coming years will cause a huge deficit. In turn, New York-based research company Goehring & Rozencwajg said that the current cycle will lead to an increase in copper prices, perhaps even above $ 10 per pound. Their report indicates that demand clearly exceeds supply. The real problem is the inevitable depletion of existing copper mines –a problem that has been in the industry for more than a decade. The shortage of new copper deposits and the capital costs of mine development in recent years means that once an existing mine is exhausted, its production cannot be replaced in a timely manner to meet the growing demand. It is also important to note that two political events that occurred in the second quarter of 2021 may negatively affect the further promotion of copper supply. In Peru, the new leftist government led by Pedro Castillo is seeking to impose a 70% tax on profits from copper mining, which will prevent further spending on existing and future projects. Following the example of Peru, Chile has also proposed a law. According to it, the profits of copper mines will be taxed at a rate of 75%. In this case, Peru and Chile are the first countries in terms of copper production. Mining companies that own high-quality copper assets will continue to attract investors.The material has been provided by InstaForex Company - www.instaforex.com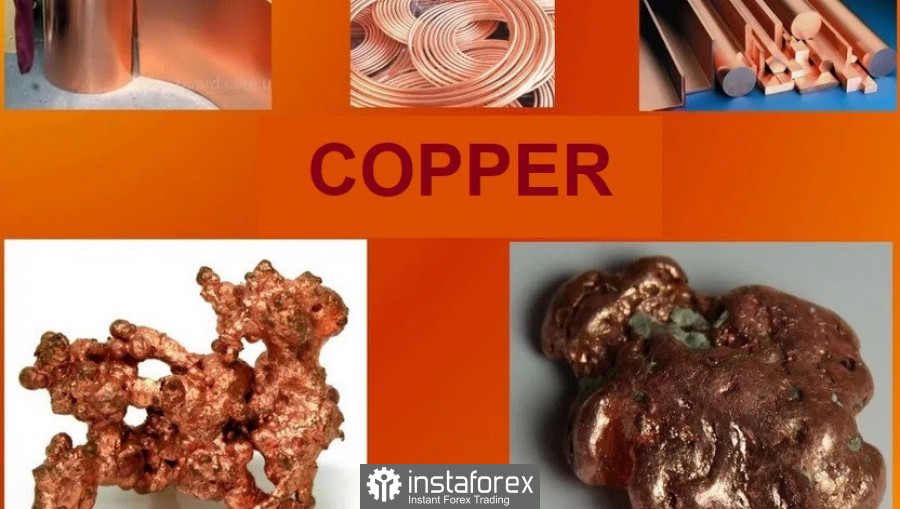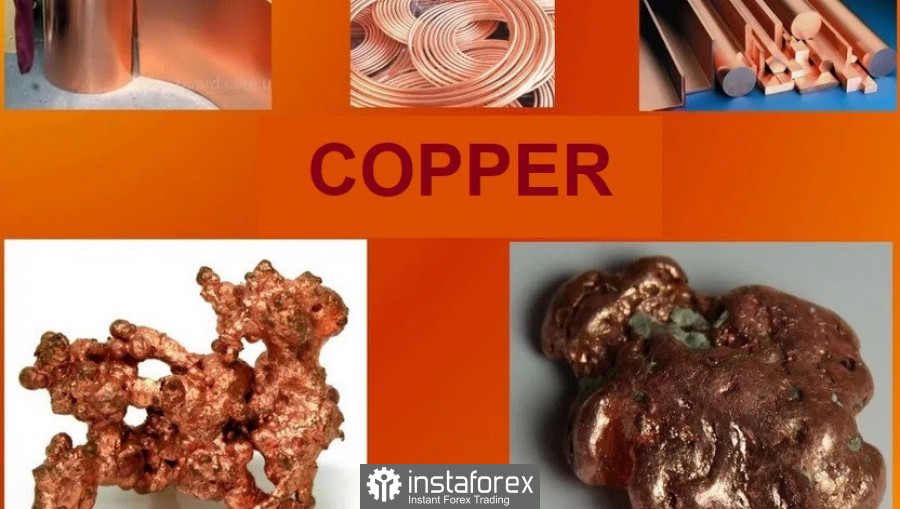 Copper has been one of the largest leaders in the commodity market since 2020. This red shiny industrial metal is not only an important part of the economic growth, but also necessary for the global transition to sustainable energy sources.
The world's largest consumer, China, has prioritized reducing carbon emissions, aiming to reduce carbon intensity (emissions per unit of GDP) by more than 65% by 2030 compared to 2005 levels. By 2060, the country wants to completely neutralize them.
In the United States, the Biden administration has set a goal to switch completely to electricity by 2035, thus to be 100% free of carbon pollution, and to neutralize it by 2050. According to the US climate plan, electric vehicles should account for at least half of new car sales in the country by 2030.
Since a lot of copper is used in the production of electric vehicles, and it uses 4 times more copper than in conventional cars, the demand for copper is growing at a tremendous pace.
Wind and solar photovoltaic systems have the highest copper content among all renewable energy technologies, which makes the metal even more important for achieving climate goals.
According to CopperAlliance, wind turbines require 2.5 to 6.4 tons of copper per MW for the generators, cables, and transformers. Photovoltaic solar power systems use about 5.5 tons of copper per MW.
A study by Fitch Solutions shows that by 2030, environmental demand from the energy and renewable energy sectors, as well as cars, will account for 7.9% of the total demand for copper.
Fitch predicts that as a result of the broader energy transition, the share of copper in green energy in total demand will grow from about 5.6% this year to 15.7% in 2030. Moreover, the average annual demand on an annualized basis over the next 10 years will be 13.0%.
According to Cochilco, the commission of the leading copper producer in Chile, the global demand for copper this year will reach 24 million tons, which is 2.4% more than in 2020, and 24.7 million tons in 2022, which is 3% more.
At the same time, Ole Hansen from Saxo Bank believes that the lack of investment in new mines for this period of time and increased demand due to the desire to electrify the transport sector in the coming years will cause a huge deficit.
In turn, New York-based research company Goehring & Rozencwajg said that the current cycle will lead to an increase in copper prices, perhaps even above $ 10 per pound. Their report indicates that demand clearly exceeds supply. The real problem is the inevitable depletion of existing copper mines –a problem that has been in the industry for more than a decade. The shortage of new copper deposits and the capital costs of mine development in recent years means that once an existing mine is exhausted, its production cannot be replaced in a timely manner to meet the growing demand.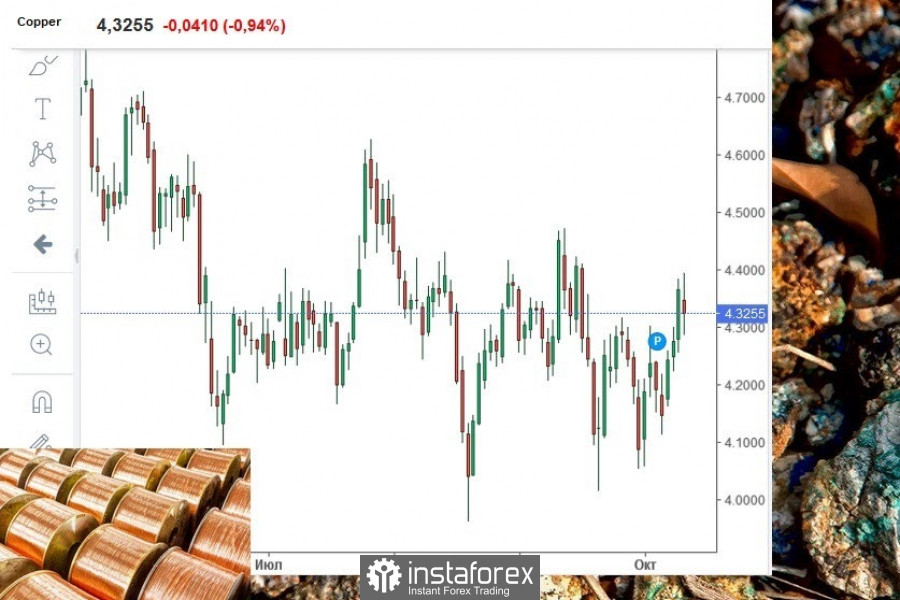 It is also important to note that two political events that occurred in the second quarter of 2021 may negatively affect the further promotion of copper supply.
In Peru, the new leftist government led by Pedro Castillo is seeking to impose a 70% tax on profits from copper mining, which will prevent further spending on existing and future projects.
Following the example of Peru, Chile has also proposed a law. According to it, the profits of copper mines will be taxed at a rate of 75%. In this case, Peru and Chile are the first countries in terms of copper production.
Mining companies that own high-quality copper assets will continue to attract investors.
The material has been provided by InstaForex Company -
www.instaforex.com