Bitcoin: Institutional Investors Push Price Up By Buying Crypto And Ditching Gold
Bitcoin's skyrocketing growth has been fueled by an influx of institutional capital, according to JPMorgan. For the first time since mid-May, this caused the price to rise more than 35% above $55,000 per coin.JPMorgan report: reasons for Bitcoin's riseInvestment bank JPMorgan reports that institutional investors are increasingly leaning towards buying bitcoins, preferring the benchmark cryptocurrency to gold as a hedge against inflation.In a research note released Thursday, JPMorgan also indicated that Bitcoin's 35% rally has received some upward momentum due to positive news from US regulators and increased use of the Lightning Network as El Salvador continues to use Bitcoin as legal tender.Regarding a regulatory issue that previously raised concerns, Fed Chairman Jerome Powell and US Securities and Exchange Commission (SEC) Chairman Gary Gensler recently stressed that the US would not ban cryptocurrency. The news also sparked a positive reaction in the market, pushing the main cryptocurrency earlier to $50,000 per coin.Institutions Prefer Bitcoin Over GoldAccording to a note by JPMorgan analysts, there is a growing interest in Bitcoin among institutions, as many of them seek to exit or ditch positions in gold in favor of cryptocurrency."Institutional investors appear to be returning to bitcoin perhaps seeing it as a better inflation hedge than gold," JPMorgan said.The report also points to a reversal in the demand for defensive assets, with more funds invested in bitcoins than in gold over the past few months.JPMorgan reports that over $10 billion came out of gold ETFs in 2021, while over $20 billion was seen in Bitcoin. According to the bank, this trend is indicative of an increase in institutional investment in bitcoin, pushing the cryptocurrency to multi-month highs.Technical Forecast: Two Scenarios for BTCUSDMeanwhile, bitcoin, having rolled back from the resistance level of 55,842.84, is again trying to test its strength on Friday. Against this background, two scenarios remain; a breakout with a consolidation above or a rebound, possibly even after a struggle for the level, and a false breakout.The technical guidelines remain as follows:In case of breakdown and consolidation above the current resistance of 55,842.84, the price of BTCUSD will be able to continue to rise to the level of 61,048.64.In case of a rebound down, the target remains Thursday's lows, and in case of an update - the support zone 52,000.18 - 52,929.15.The material has been provided by InstaForex Company - www.instaforex.com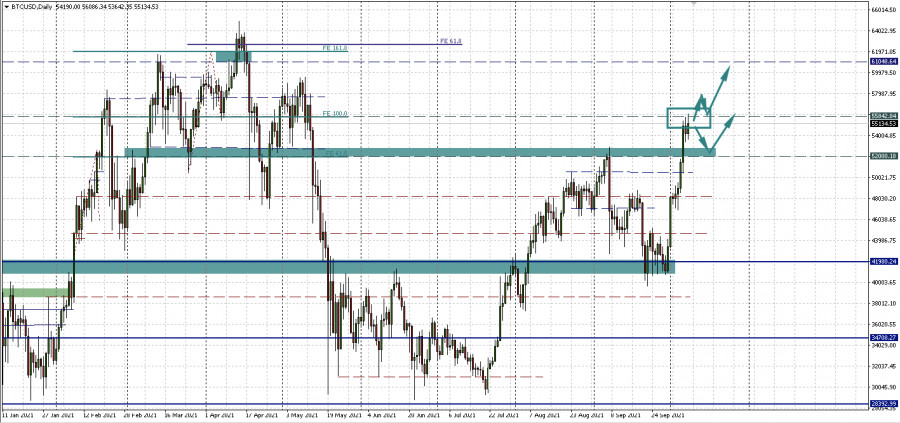 Bitcoin's skyrocketing growth has been fueled by an influx of institutional capital, according to JPMorgan. For the first time since mid-May, this caused the price to rise more than 35% above $55,000 per coin.
JPMorgan report: reasons for Bitcoin's rise
Investment bank JPMorgan reports that institutional investors are increasingly leaning towards buying bitcoins, preferring the benchmark cryptocurrency to gold as a hedge against inflation.
In a research note released Thursday, JPMorgan also indicated that Bitcoin's 35% rally has received some upward momentum due to positive news from US regulators and increased use of the Lightning Network as El Salvador continues to use Bitcoin as legal tender.
Regarding a regulatory issue that previously raised concerns, Fed Chairman Jerome Powell and US Securities and Exchange Commission (SEC) Chairman Gary Gensler recently stressed that the US would not ban cryptocurrency. The news also sparked a positive reaction in the market, pushing the main cryptocurrency earlier to $50,000 per coin.
Institutions Prefer Bitcoin Over Gold
According to a note by JPMorgan analysts, there is a growing interest in Bitcoin among institutions, as many of them seek to exit or ditch positions in gold in favor of cryptocurrency.
"Institutional investors appear to be returning to bitcoin perhaps seeing it as a better inflation hedge than gold," JPMorgan said.
The report also points to a reversal in the demand for defensive assets, with more funds invested in bitcoins than in gold over the past few months.
JPMorgan reports that over $10 billion came out of gold ETFs in 2021, while over $20 billion was seen in Bitcoin. According to the bank, this trend is indicative of an increase in institutional investment in bitcoin, pushing the cryptocurrency to multi-month highs.
Technical Forecast: Two Scenarios for BTCUSD
Meanwhile, bitcoin, having rolled back from the resistance level of 55,842.84, is again trying to test its strength on Friday. Against this background, two scenarios remain; a breakout with a consolidation above or a rebound, possibly even after a struggle for the level, and a false breakout.
The technical guidelines remain as follows:
In case of breakdown and consolidation above the current resistance of 55,842.84, the price of BTCUSD will be able to continue to rise to the level of 61,048.64.
In case of a rebound down, the target remains Thursday's lows, and in case of an update - the support zone 52,000.18 - 52,929.15.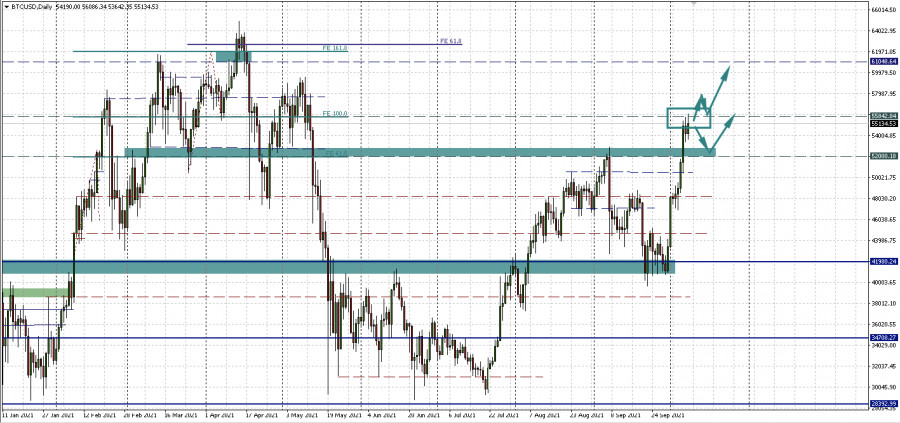 The material has been provided by InstaForex Company -
www.instaforex.com