AUD/USD inverted head & shoulders indicates reversal
AUD/USD dropped a little in the last hours erasing the latest gains. It remains to see what will really happen as the price has developed a reversal pattern. Still, we have to wait for confirmation before taking action.The USD dropped ahead of today's US data even if the ISM Services PMI, Unemployment Claims, ADP Non-Farm Employment Change have come in better than expected during the week. Today, the US data have come in mixed but the Dollar Index continues to stay higher. Actually, the DXY has managed to grow in the last hours, even if the Non-Farm Employment Change was reported lower at 194K in September far below 490K expected and compared to 366K in August.On the other hand, the Average Hourly Earnings registered a 0.6% growth in September versus 0.4% expected, while the Unemployment Rate dropped unexpectedly lower from 5.2% to 4.8%. AUD/USD Breakout Needs Confirmation!As you can see on the H4 chart, the AUD/USD printed a potential Inverse Head & Shoulders pattern. It's located above the potential neckline (downtrend line) and above the first warning line (wl1) of the descending pitchfork. Unfortunately, it has failed to stay above 0.7316 static resistance signaling that the pressure is high. The reversal pattern could be invalidated if the pair drops and stabilizes under 0.7288 today's low.AUD/USD Forecast!Making a valid breakout, jumping, closing, and stabilizing above the weekly R1 (0.7328) could activate the reversal pattern and could bring fresh long opportunities.The material has been provided by InstaForex Company - www.instaforex.com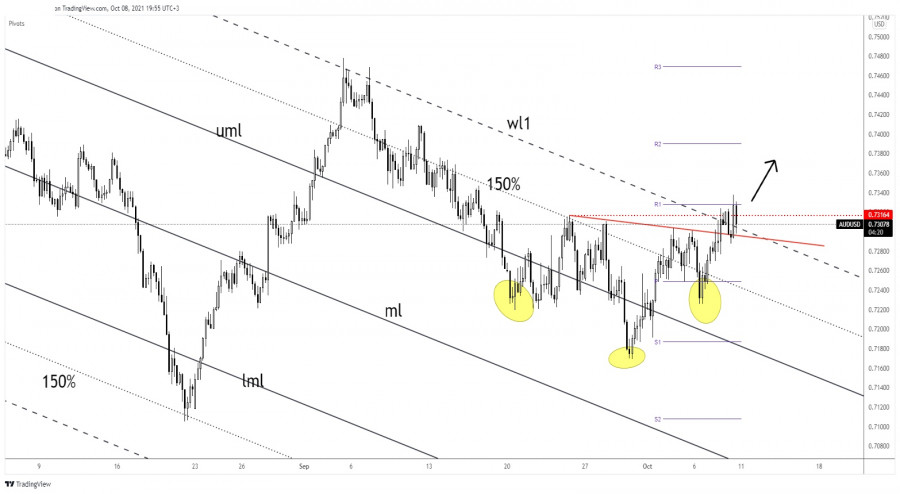 AUD/USD dropped a little in the last hours erasing the latest gains. It remains to see what will really happen as the price has developed a reversal pattern. Still, we have to wait for confirmation before taking action.
The USD dropped ahead of today's US data even if the ISM Services PMI, Unemployment Claims, ADP Non-Farm Employment Change have come in better than expected during the week.
Today, the US data have come in mixed but the Dollar Index continues to stay higher. Actually, the DXY has managed to grow in the last hours, even if the Non-Farm Employment Change was reported lower at 194K in September far below 490K expected and compared to 366K in August.
On the other hand, the Average Hourly Earnings registered a 0.6% growth in September versus 0.4% expected, while the Unemployment Rate dropped unexpectedly lower from 5.2% to 4.8%.
AUD/USD Breakout Needs Confirmation!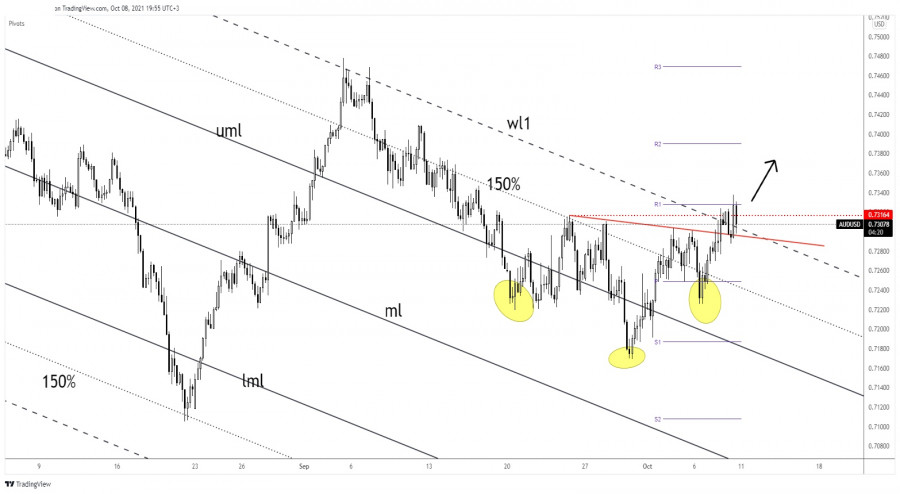 As you can see on the H4 chart, the AUD/USD printed a potential Inverse Head & Shoulders pattern. It's located above the potential neckline (downtrend line) and above the first warning line (wl1) of the descending pitchfork.
Unfortunately, it has failed to stay above 0.7316 static resistance signaling that the pressure is high. The reversal pattern could be invalidated if the pair drops and stabilizes under 0.7288 today's low.
AUD/USD Forecast!
Making a valid breakout, jumping, closing, and stabilizing above the weekly R1 (0.7328) could activate the reversal pattern and could bring fresh long opportunities.
The material has been provided by InstaForex Company -
www.instaforex.com